CONWED celebrates 50 years of netting innovation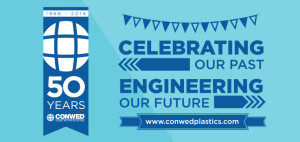 MINNEAPOLIS, MN (January 11th, 2016) – Conwed, the leading plastic netting manufacturer in the world, celebrates its 50th anniversary in 2016. Led by the campaign theme "Celebrating our Past, Engineering our Future", Conwed plans to communicate the collaborative approach and thirst for innovation that have made them the partner of choice in diverse industries. Since 1966, Conwed has developed netting solutions for hundreds of industrial and consumer products worldwide. Founded in Minneapolis, MN, Conwed has now 5 manufacturing locations on two continents, more than 400 employees and a global distribution network.
During the last 50 years, Conwed netting has been a key component in diverse market applications. Netting is used to reinforce, protect, contain, separate, laminate and stretch a wide range of materials and substrates in various industries. "Our netting helps make products lighter, stronger and more durable. Netting sometimes may not be easily visible, but it hides behind the scenes in products we all use on a daily basis", said Ivan Soltero, Strategic Marketing Manager at Conwed.
Enjoying rapid growth in its first three decades of existence, Conwed introduced reinforcement netting to bedding products, became essential in reinforcing carpet cushion and provided separation, containment and support to diverse air and liquid filtration products. Then, the erosion control industry boomed and Conwed netting became a key material in erosion control blankets, turf reinforcement mats and wattles. Conwed also thrived creating netting for hay and forage containment, turf harvesting and crop protection. "When someone asks what Conwed does, it might be complex to explain as netting can be found in many different industries; people buy turkey or produce at a supermarket contained in a netting bag, walk on their living room carpet supported by carpet cushion reinforced with netting, run on a backyard lawn harvested with netting, wear disposable diapers with elastic netting waistbands, or use industrial wipes reinforced with our netting. You can find us in the most unexpected places", added Soltero.
In the last decade, Conwed has expanded into porous pavers, rug liners, reverse osmosis feed spacers, elastic hygiene composites, packaging multilayer netting and high-temperature netting for automotive, oil, hydraulic and liquid filtration applications. "Our netting innovation relies heavily on our customers' product development needs. We pride ourselves on customizing each netting design to the point where we rarely have an off-the-shelf netting solution for our customers. Netting is so versatile that we encourage customers to share what their challenges are before assuming they can't be solved", said Soltero.
As part of the 50th anniversary celebration, Conwed prepared a new video where company milestones and history are highlighted. "Our audience will be surprised with this new video. We wanted to bring some fun and excitement to our 50 years of netting innovation across industries. So we asked the question – 50 years ago, could you have predicted an entire world of netting?" shared Soltero.
Watch the new Conwed video "Celebrating our Past, Engineering our Future" below.
About CONWED
Conwed is the leading plastic netting manufacturer in the world. Conwed manufactures extruded, oriented and knitted netting with unique customization capabilities.  Headquartered in Minneapolis, Minnesota, Conwed has five manufacturing locations on two continents and a global distribution network.
Contact Information
Email:
mandy.sanders@conwedplastics.com
URL:
www.conwedplastics.com
Phone:
Mandy Sanders, Phone: 612-623-2548
Company:
Conwed