Conwed exhibits netting innovations at IDEA 16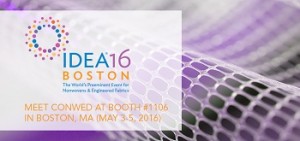 Minneapolis, MN (April 26, 2016) – Conwed, the leading plastic netting manufacturer in the world, will be exhibiting its reinforcement, lamination and stretch netting portfolio at IDEA 2016 in Boston, MA (May 3-5, 2016 -BOOTH #1106).  Organized every three years by the Association of the Nonwoven Fabrics Industry (INDA), IDEA16 expects more than 7,000 attendees. Surpassing 450 exhibitors, from more than 70 countries IDEA16 is the ideal venue to share latest innovations in industries such as absorbent hygiene, apparel, automotive, building, construction, filtration, geotextiles, home & office furnishings, medical and other disposable applications.
Conwed netting is used to provide reinforcement, stretch, lamination, separation and channeling functionalities to hundreds of composites in automotive, apparel, building and construction, filtration, hygiene and medical applications. "Our netting can be incorporated with nonwovens and other substrates to create truly exceptional composites. We have customers creating composites through extrusion coating, extrusion lamination, thermal lamination, ultrasonic welding, wet and dry adhesive lamination and diverse nonwoven processes", said Ivan Soltero, Sr. Strategic Marketing Manager at Conwed.
Conwed is showcasing a wide portfolio of its netting technology at IDEA 16.  Its Rebound elastomeric netting is the ultimate stretch engine material used in elastic composites.  Rebound is utilized in composite form with nonwovens and other substrates acting as an alternative to spandex, films and stretchable nonwovens. In hygiene products, it is used as the elastic material in waistbands and side panels that are found in adult incontinence briefs and underwear as well as baby training pants. "Rebound is an exceptional elastic material. In apparel applications, it is also used in sports pants, yoga pants and other garments requiring elasticity and superior breathability features", said Soltero.
Another netting technology exclusively developed by Conwed is co-extrusion. Co-extrusion is a multi-layer extruded netting than can be subsequently oriented where different polymers can form different layers on the same netting configuration.  It is a square netting construction and Conwed has the ability to build netting with A/B, A/B/A, and A/B/C layer combinations. Co-extrusion netting acts as the bonding, reinforcing agent in diverse composites. By using co-extrusion netting with adhesive layers, manufacturers and converters may eliminate adhesive steps in their manufacturing and converting processes for specific product applications.
The latest addition to Conwed netting portfolio is Multinet, a multilayer reinforcement netting.  It offers excellent tensile strength properties without significantly impacting the overall weight of the composite. "Our clients demanded an alternative to cross laminated fabrics and cross laid scrims that would allow them to increase the tensile strength of their composites without sacrificing weight and coverage targets. This is truly a new product segment for our entire business and we'll be sharing it at IDEA 16", said Soltero.
To learn more about Conwed and its IDEA 16 exhibition visit www.conwedplastics.com/idea16
About CONWED 
Conwed is the leading plastic netting manufacturer in the world. Conwed manufactures extruded, oriented and knitted netting with unique customization capabilities. Headquartered in Minneapolis, Minnesota, Conwed has five manufacturing locations on two continents and a global distribution network.