CONWED highlights Rebound® netting at Hygienix 2015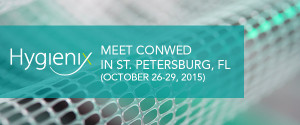 MINNEAPOLIS, MN (October 14th, 2015) – Conwed, the leading plastic netting manufacturer in the world, will showcase its elastomeric netting portfolio, under brand name Rebound®, at Hygienix 2015 Conference in St. Petersburg, FL (October 26-29, 2015). Organized by the Association of the Nonwoven Fabrics Industry (INDA), this is the premier event devoted entirely to the hygiene and disposable consumer products. This event gathers key professionals from across the consumer products value chain to deliver the best in strategic information and business networking.
Rebound elastomeric netting is used in composite form with nonwovens and other substrates acting as an alternative to spandex, films and stretchable nonwovens. In hygiene products, it is used in waistbands and side panels in adult incontinence briefs and underwear and in baby training pants.  In 2014, Conwed launched the newest development in its elastomeric netting portfolio, Flat Rebound®. This new configuration with flat joints allows the creation of stretchable and smooth composites for superior comfort and feel.  It addressed the demand for lightweight and breathable composites with no joints to mimic a smooth, apparel-type texture.
In addition to offering elastomeric netting by itself, Conwed is now promoting stretchable nonwoven composites powered by Flat Rebound. "The majority of hygiene manufacturers prefer receiving a stretchable composite already made versus incorporating the elastomeric netting themselves, so we developed stretch laminate alternatives for waistband and side panel applications", said Ivan Soltero, Strategic Marketing Manager at Conwed.
In recent years, Conwed has emphasized the importance of comfort, especially for adult incontinence applications.  Rebound offers superior breathability, moisture and heat management performance compared to other solid or perforated film composites. The breathable mesh configuration helps draw moisture away from user's skin and disperse it over a determined area where it can evaporate; contributing to a higher level of comfort.
"Our elastomeric netting portfolio continues to evolve and we pay attention to industry trends when we design our netting configurations. The growth experienced in adult incontinence products, presents an opportunity for our stretch engine materials because our netting configurations do outclass other alternatives when breathability, moisture and heat management performance are essential" said Mary Liz Cahill, Business Development Manager at Conwed.  "Hygienix is the ideal venue to gather industry intelligence and connect with potential customers and influencers from around the world".
To know more about Conwed elastomeric netting portfolio and its hygiene applications, visit www.conwedplastics.com/hygiene
About CONWED
Conwed is the leading plastic netting manufacturer in the world. Conwed manufactures extruded, oriented and knitted netting with unique customization capabilities.  Headquartered in Minneapolis, Minnesota, Conwed has five manufacturing locations on two continents and a global distribution network.
Contact Information
Email:
mandy.sanders@conwedplastics.com
URL:
www.conwedplastics.com/hygiene
Phone:
Mandy Sanders, Phone: 612-623-2548
Company:
Conwed