Conwed joins SWM International at INDEX 17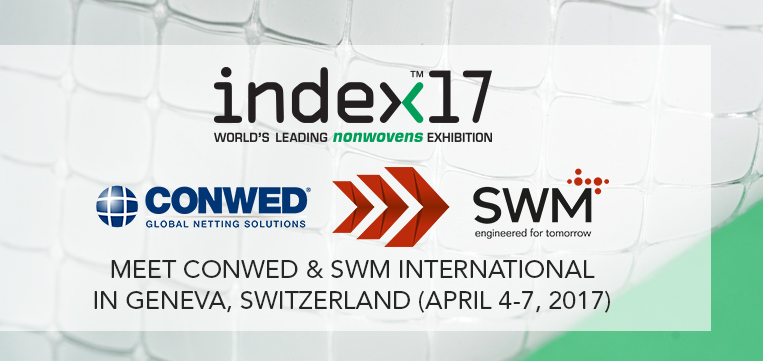 With the acquisitions of Conwed, DelStar, and Argotec, SWM provides advanced materials for a world of nonwoven applications.
Minneapolis, MN (March 14, 2017) – Conwed, acquired by Schweitzer-Mauduit International (NYSE: SWM) earlier this year, will join SWM at INDEX 17, the world's leading nonwovens exhibition in Geneva, Switzerland (SWM Booth # 1459 – April 4-7, 2017). Organized every three years, the last INDEX Show in 2014 gathered approximately 580 exhibitors from 41 countries, and 12,500 trade visitors from more than 100 countries.
Nonwoven applications can be found everywhere; from hygiene, cleaning, medical, filtration, and packaging, to automotive, apparel, construction and disposable consumer products, the global nonwovens market is expected to reach $50.8 billion in 2020.
SWM is a global leader manufacturer of fiber-based materials, such as its pioneering specialty papers, with applications across a variety of industries. Recent acquisitions of DelStar Technologies, acquired in 2013, Argotec, acquired in late 2015, and Conwed Plastics, acquired in 2017, have broaden SWM's portfolio to include an expanded range of fiber and resin-based offerings, such as netting, fibers, yarn, films, tubes, nonwovens, and engineered composites. "Conwed is delighted to join SWM International. We are in the process of integration and this allows SWM to offer a distinctive advanced materials portfolio for the nonwovens industry. Our joint R&D and engineering capabilities will allow us to closely collaborate with our customers on their next product innovations," said Ivan Soltero, senior strategic marketing manager at Conwed.
SWM manufactures the leading elastomeric netting in the world. Uniquely designed for hygiene and apparel applications, Flat Rebound is an elastomeric netting with flat joints to create smooth and highly breathable nonwoven composites. "Flat Rebound is used in composite form with nonwovens and other substrates acting as the stretch engine alternative to spandex, films, and stretchable nonwovens. In hygiene products, it is used in waistbands and side panels in adult incontinence briefs and underwear, and in baby training pants," said Soltero.
SWM will also showcase co-extrusion netting at INDEX 17. Co-extrusion is a multi-layer extruded netting than can be subsequently oriented where different polymers can form different layers on the same netting configuration. It is a square netting construction and SWM has the ability to build netting with A/B, A/B/A, and A/B/C layer combinations. "Netting is an ideal reinforcement and bonding element to create exceptional composites with film, paper, foil, foam, bubble wrap, nonwoven and other fabrics. It is lightweight yet very strong. It is an exceptional reinforcement material for a wide range of disposable applications," said Soltero.
In addition to the full portfolio of netting acquired from Conwed and DelStar Technologies, SWM will showcase films developed by Argotec. From graphic, medical, automotive, and glass lamination, to industrial, textile, leading edge and surface protection, SWM offers now a robust portfolio of films for reinforcement, protection and lamination applications.
To know more about Conwed joining SWM International at INDEX 17, visit
www.conwedplastics.com/index17
About CONWED 
Conwed is the leading plastic netting manufacturer in the world. Conwed manufactures extruded, oriented, knitted and multilayer netting with unique customization capabilities. Headquartered in Minneapolis, Minnesota, Conwed has five manufacturing locations on two continents and a global distribution network. www.conwedplastics.com
About SWM
SWM is a leading global provider of highly engineered solutions and advanced materials. We are experts in developing and manufacturing technical materials from fibers, resins and polymers that are critical components in many instantly recognizable products and industries globally. Historically, the company focused on engineered papers but in recent years has diversified to include a range of films, nets and nonwovens, offered through its Advanced Materials & Structures (AMS) segment.
The AMS platform was created through multiple strategic acquisitions, including DelStar Technologies (2013), Argotec (2015) and Conwed Plastics (2017). SWM and its subsidiaries conduct business in over 90 countries and employ approximately 3,500 people worldwide, with operations in the United States, United Kingdom, Belgium, Canada, France, Luxembourg, Russia, Brazil, Poland and China, including two joint ventures. For further information, visit SWM at www.swmintl.com