CONWED launches its 2015 IDEA Book
MINNEAPOLIS, MN (January 5, 2015) – Conwed, the leading plastic netting manufacturer in the world, launched its 2015 IDEA Book, a digital catalog that outlines the company's capabilities, core products and technologies. This new digital version includes a thorough description of all netting characteristics that can be customized and their impact on product performance.
Conwed netting is an essential component in hundreds of industrial and consumer products in many different industries worldwide. From automotive, filtration, medical, hygiene and disposable products to agriculture, apparel and building and construction applications, plastic netting helps improve product performance and functionality. "Plastic netting is a versatile material used in very dissimilar applications. We want to communicate how our netting configurations can help improve our customers' products depending on the final application", said Ivan Soltero, Strategic Marketing Manager at Conwed. "This e-book is the ideal conversation starter when evaluating netting as a material alternative. We see it as the Plastic Netting 101 course to understand the true potential of our portfolio".
The 2015 Conwed IDEA Book is the first public manual that explains how plastic netting is made, how it can be customized and how it can be incorporated with other substrates through diverse lamination and bonding processes. Conwed netting is commonly used in composites made by extrusion coating, thermal, wet and dry lamination, ultrasonic welding and diverse nonwoven processes. "This new version will help our customers and prospects learn more about our netting capabilities and expertise. We believe sharing the basic concepts of our technology can promote collaboration and help our customers develop their next product innovation", said Soltero.
In addition to providing a detailed overview of Conwed, the digital IDEA book features photo samples of different netting configurations with product specifications. Terms such as mesh and hole size, strand count, joints, thickness, color and resin formulation are covered in this new version.
Browse the 2015 Conwed IDEA book today at www.conwedplasticsideabook.com.
About CONWED
Conwed is the leading plastic netting manufacturer in the world. Conwed manufactures extruded, oriented and knitted netting with unique customization capabilities. Headquartered in Minneapolis, Minnesota, Conwed has five manufacturing locations on two continents and a global distribution network.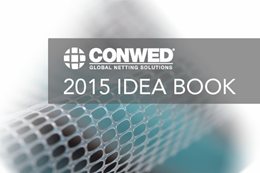 Contact Information