Elsner Designs and Builds Next Generation Rewinder for Canister Wipes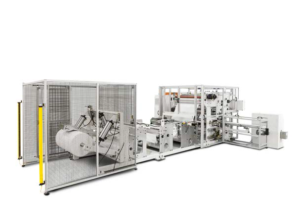 Partnership with Guy & O'Neill Yields Customer-driven Solution
June 2, 2017 – Hanover, PA– Elsner Engineering Works, Inc. announces the design and build of their next generation rewinder targeted for the canister wipes market. The Elsner ENR-G3 takes the industry leading ENR-1000 concept and experience a big step forward.
Increased Speed, Increased Production
With increases in speed, cycle rate and finished roll size, the G3 will give converters a boost in production and capability. With feedback from customers using the existing model, Elsner's team of engineers focused on the key points that were commonly heard.
The Features: Customer Feedback in Action for Big Gains
The move to 700 feet per minute web speed is where converters will see immediate gains. A 75% gain is going to keep downstream equipment very busy. The 12" finished diameter increase (up from 10" on the previous model) gives their customer greater range in the growing 'gym wipe' and other large roll sector. Each machine will include access to the Elsner IIOT app for real time data analysis, production feedback and trend monitoring. In addition, the app has embedded manuals, maintenance alerts, contact forms and other functionality.
"A close look at our perforator design was key to the development of our third generation nonwovens rewinder," states Bert Elsner, II, Elsner's President/CEO. "Our R&D team looked at how to better balance the knife body, handle the bearing mounting and make the blades easier to install. We are very pleased with the outcome and cannot wait to see the new design in action in our customer's facilities."
Guy & O'Neill: A Partnership for Success
When bringing a new machine to the industry, the key to success is finding the proper partner for machine number 1. Working closely with long time customer Guy & O'Neill, of Fredonia, WI, Elsner found a great fit.
"Guy & O'Neill's growth and our machine build progress lined up perfectly," says Jay Roth, Corporate Sales Manager for Elsner. "As they revealed their outlook and production needs moving forward, it was great timing to get G&O involved with the G3. The timelines worked for both teams. We are finishing up the build, integrating the optional features our customers expect, including our ultrasonic tail tie, and fine tuning to G&O's exact needs. With their support, we are putting the machine through production level testing before we let it out of our building. We want to make sure they see the full value of their investment from the moment we install the machine in Wisconsin."
Guy & O'Neill is thrilled to partner with Elsner to be first to market with the new machine.
"G&O is very excited to partner with Elsner on this new technology," commented Tom Misgen, President and COO of Guy & O'Neill. Elsner is already the leader in center-pull roll converting equipment. The new G3 brings the level of performance to a new level. The new Elsner G3 is the heart of our new, automated, state-of-the-art, canister manufacturing line. Simply stated, this new process will be the most efficient AND flexible canister manufacturing line in the world."
Elsner Engineering Works, Inc.: Founded in 1934, Elsner designs and manufactures converting and packaging machinery. Elsner's wide range of machines are used to convert and package such products as rolled and folded wipes, medical disposables, film, gift wrap, aluminum foil and wallpaper. Elsner currently services and supports over 3000 machines worldwide with equipment in 60 countries. www.elsnereng.com
Guy & O'Neill, Inc.: G&O was founded in 1975 with headquarters in Fredonia, Wisconsin. It is focused on contract, private label and consumer goods manufacturing for wet wipes, personal care, beauty care, household care, adult care and automotive care. Guy & O'Neill has created and delivered innovation for Fortune 500 retailers and consumer product companies with an emphasis on the highest standards for business ethics, quality and customer service. For more information visit www.guyandoneill.com.
####
Contact Information
Email:
jroth@elsnereng.com
URL:
www.elsnereng.com
Phone:
Jay W. Roth – Sales Manager, Phone: +1-717-637-5991
Company:
Elsner Engineering Works, Inc.