Feed Spacers for RO filter elements – optimize your water filtration system with Naltex™ diamond nettings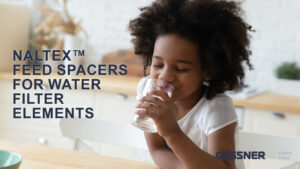 Feldkirchen-Westerham, Germany, June 20, 2023 – Water is essential for life, and having access to potable and safe water is one of the key factors in maintaining health. Water filtration systems play a critical role in ensuring that our tap water is free from contaminants and other impurities that can impact our health.
Naltex™ diamond nettings are used as feed spacers for spiral wound water filtration membrane elements for Reverse Osmosis, Nano, Ultra, and Micro Filtration. Naltex feed spacers are specifically designed to optimize the hydraulic conditions of the feed water by creating turbulence on the membrane surface which reduces fouling and pressure losses through the membrane element. These specially crafted spacers are made by a strong yet flexible plastic mesh that provides superior hydraulic flow capability which improves the flux of the membrane. In addition, their unique design helps to evenly disperse the feed water across the filter surface, providing optimal contact time with the filter media and improving overall filter performance. Naltex™ feed spacer technologies can improve the efficiency of your water filtration system by increasing the flux of each membrane element while also extending the life and robustness of a membrane element by reducing fouling on the membrane surface contributing to less cleaning and maintenance downtime.
Naltex™ diamond nettings are made of FDA approved materials, offering superior strength and flexibility. Additionally, all Naltex™ products are tested to ensure they meet strict standards for lead, chlorine and other contaminants commonly found in drinking water. With regular cleaning and maintenance, these diamond nettings can extend the life of your filter while ensuring safe, pure water for your entire family.
If you want to learn more about our overall portfolio for RO solutions, please visit our website Filtration Solutions for Reverse Osmosis (gessner-filtration.com)