Form is not a Factor-AATCC Gray Scale Product Update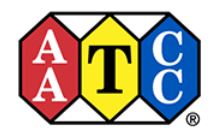 RESEARCH TRIANGLE PARK, N.C., USA, July 13, 2021— The AATCC Gray Scales for Color Change and Gray Scales for Staining have a new base and sleeves. The color chips, size and functionality remain the same. The base and sleeves went from paper to plastic. This change provides a more durable and consistent feel when handling.  The change from paper to plastic allows the scales to handle the rigors of laboratory life better than its predecessor. Scales should be replaced as directed by AATCC EP1 and AATCC EP2.
This change will be a flow-in. As the inventory of the current scales are depleted, AATCC will transition to the newer version. AATCC cannot accommodate product requests but rest assured that the performance and functionality remain unchanged regardless of the version you receive.
Dashes & Dots
AATCC is in the process of transitioning from Dashes to Dots.  Some AATCC Gray Scales may have half steps expressed in dashes (-), while others have dots (.) Either is acceptable and usability is comparable. AATCC cannot grant requests for one version over the other. Once all inventory of Dashes are depleted AAATCC will fully convert to Dots. For mathematical calculation, a decimal representation works with most applications. If you have a dash scale simply convert to decimal when inputting details into a mathematical based application. The table below illustrations the equivalent scale values.
| | |
| --- | --- |
| DASH | DOT |
| 5 | 5 |
| 4-5 | 4.5 |
| 4 | 4 |
| 3-4 | 3.5 |
| 3 | 3 |
| 2-3 | 2.5 |
| 2 | 2 |
| 1-2 | 1.5 |
| 1 | 1 |
About AATCC: Founded as the American Association of Textile Chemists and Colorists (AATCC), the Association continues to evolve to meet the needs of those in the ever-changing textile, apparel, and materials industries. AATCC has served textile professionals since 1921. Today, the Association provides test method development, quality control materials, education, and professional networking for a global audience.
# # #