Freudenberg Performance Materials strengthens Evolon lightweight wipes' position in industrial cleaning

20.04.2016 – The worldwide leading manufacturer of technical textiles presents its latest developments for high-tech wiping at the IDEA 2016 show in the U.S.
Originally designed as a durable fabric with outstanding properties, Evolon has been used for more than a decade as heavyweight high-tech cleaning cloths withstanding hundreds of wash cycles at constant performance. Pushing the limits of the unique worldwide-patented technology, Freudenberg has worked on the basis of those strengths to combine the benefits of microfilaments and the convenience of disposable items to develop its range of lightweight wipe substrates. Evolon wipes offer the best cleaning performance in their category thanks to the fineness and density of the microfilaments. Dry or pre-impregnated, Evolon lightweight wipes are set for highly demanding applications requiring the best surface preservation, and are currently being qualified by the automotive and aerospace industries. These Evolon lightweight wipes give Freudenberg the opportunity to consolidate its position on the industrial cleaning segment.
Endless microfilaments make Evolon lint-free, strong, mechanically stable and isotropic, providing extended durability and stability-in-use for dry or wet disposable and semi-disposable lightweight wipes. With a microfilament size ca. 10 times thinner than standard microfiber, wipes using the Evolon technology provide an outstanding streak-free cleaning performance and absorb up to 4 times their weight of water and 8 times their weight of oil. These are all key features which prove to be highly beneficial in high tech industrial environments.
Down to 30 gsm, Evolon microfilament wipes are 1.5 to 2 times lighter than the lightweight wipes traditionally obtained using conventional processes. Design and patterning flexibility include: flat, mesh or the new 3D structures, to fulfill the need for differentiation expressed by the customers. "The pattern was originally a more stringent subject in consumer markets, but we are more and more required by the industrial market to provide unique-looking products with superior cleaning performance. Evolon is fit for this too." says Jean-François Kerhault, business segment manager Evolon. In this respect, Evolon 3D revolutionary pattern has been nominated as one of three finalists in the Roll Goods category at IDEA16 in Boston.
Many customers pre-impregnate Evolon substrates, to provide the task-specific light wet wipes required by a more and more segmented industrial market. Thanks to the microfilament structure, the impregnation remains stable over the product lifetime to ensure constant liquid release. The composition of Evolon microfilament textile is compatible with a multitude of pre-impregnation cleaning lotions, solvents and IPA. "Evolon is also resistant to peroxide-based disinfectant, unlike some other competitive materials. This brings a significant advantage to our customers, by allowing them to use a wider variety of cleaning agents." adds Kerhault.
Evolon lightweight substrates are easy to convert in a large variety of formats: flat wipes, perforated rolls, pull-ups and interfold are just as easy to make.
Evolon fabrics range from 30gsm to 240gsm and are certified Oeko-Tex Standard 100 Product Class I. The Freudenberg facility producing Evolon is certified ISO 9001, ISO 14001, OHSAS 18001 and ISO 50001.
Pictures:
A hair on Evolon surface. Evolon microfilaments are up to 100 times thinner than a human hair, which provides its outstanding characteristics.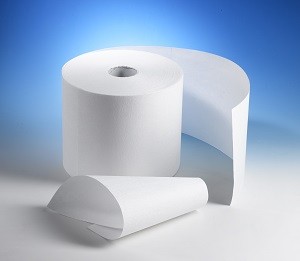 Lightweight Evolon precut wipe roll
About Freudenberg Performance Materials
Freudenberg Performance Materials is a leading global manufacturer of innovative technical textiles offering differentiated value propositions to a broad range of markets  and applications such as Apparel, Automotive, Building Materials, Hygiene, Medical, Shoe and Leathergoods as well as Specialties. In 2015, the company generates sales of almost €980 million and has more than 25 manufacturing sites in 14 countries and more than 3.800 associates. Freudenberg Performance Materials has many years of experience in technical textiles and applications. The company attaches great importance to social and ecological responsibility. For more information, please visit www.freudenberg-pm.com
The company is part of the Freudenberg Group. In 2015, the Freudenberg Group employed over 40,000 people in some 60 countries worldwide and generated sales of more than 7,5 billion Euros (including pro-rata consolidation of 50:50 joint ventures). For more information, please visit www.freudenberg.com