Freudenberg presents the world's first nonwoven crimping material at Lineapelle 2020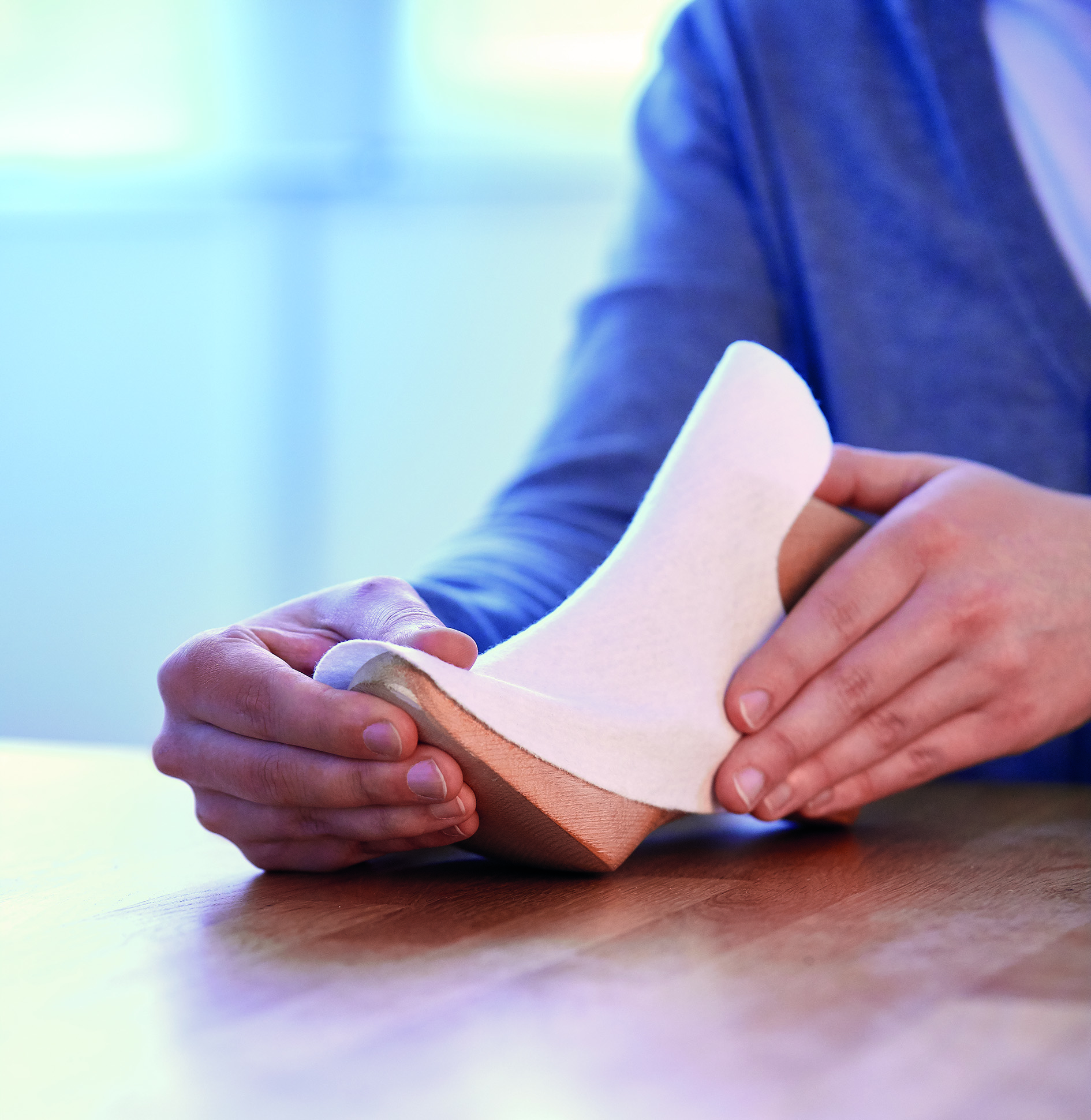 Weinheim, February 17, 2020. Freudenberg Performance Materials (Freudenberg) will be presenting an innovation that meets the increasing demands of manufacturers and consumers alike in the footwear market. Made from nonwoven fabric, the innovative crimping material optimally combines high permanent moldability and shape retention with flexibility and suppleness. This unique crimping material enables manufacturers to reduce their production costs while consumers benefit from increased comfort. The world's leading supplier of innovative technical textiles will present the innovation for the first time at the Milan Lineapelle trade show from February 19-21 in Hall 9, Booth F1/F3.
Consumers are increasingly looking for ever softer, more flexible and at the same time fashionable shoes. This in turn places greater demands on shoe manufacturers in terms of production technology. Freudenberg's innovative nonwoven-based crimping material succeeds in reconciling the demands of consumers with the associated technical challenges for manufacturers.
The advantages at a glance:
Multi-directional stretching properties
In contrast to knitted linings, the material's multi-directional stretching properties enable uniform longitudinal and transverse stretching over the entire vamp area. The direction-independent pattern grading this enables results in up to 10 percent less cut waste.
Lower production costs
Compared to conventional knitted fabric-based crimping materials, faster thermoplastic moldability means shorter production times and thus significantly reduced manufacturing costs.
Improved fitting
The crimping material offers better shaping, last-true vamp mold retention and optimum shape and stability. Even after more than 72 hours of wear, the molded vamp still retains 100 percent of its true lasted shape.
Optimum wearing comfort and greater design freedom
The material's extremely fine fibers allow shoes to be designed that are very soft in character and provide optimum comfort. At the same time, the exceptionally high cutting-edge stability increases the range of creative design possibilities.
Reduced weight
The significantly lower weight-to-area ratio of the nonwoven-based crimping material reduces the weight of the shoe while at the same time ensuring better shape retention.
About Freudenberg Performance Materials
Freudenberg Performance Materials is a leading global manufacturer of innovative technical textiles offering differentiated value propositions to a broad range of markets and applications such as apparel, automotive, building materials, energy, filter media, healthcare, hygiene, building interiors, shoe and leather goods as well as specialties. In 2018, the company generated sales of more than €920 million, has 23 manufacturing sites in 13 countries and more than 3.600 associates. Freudenberg Performance Materials attaches great importance to social and ecological responsibility.
For more information, please visit www.freudenberg-pm.com
The company is a Business Group of Freudenberg Group. In 2018, the Freudenberg Group employed more than 49,000 people in some 60 countries worldwide and generated sales of more than €9.4 billion. For more information, please visit www.freudenberg.com