High Island Organics and ProAmpac Announce Recyclable Quad-Seal Pouch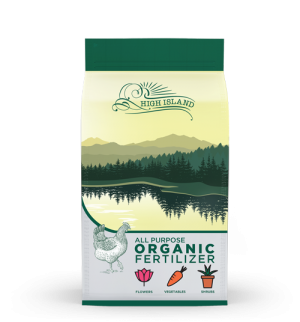 CINCINNATI (March 24, 2020) – Continuing its mission to deliver more sustainable flexible packaging solutions, ProAmpac, the flexible packaging leader, launched a premium recyclable quad-seal, flat bottom bag for High Island Organics' new product, All-Purpose Organic Fertilizer.
To produce the new quad-seal bag, ProAmpac collaborated with its customer, High Island Organics, a family-owned producer of high-quality organic fertilizers. ProAmpac refers to this bag as ProActive Recyclable QUADFLEX® which is part of its ProActive Sustainability® product offerings.
New Recyclable Quad-Seal Bag
"The ability to be among the first in the industry to design a quad-seal bag that provides both durability and sustainability without sacrificing one for the other, makes ProActive Recyclable QUADFLEX a remarkable innovation," stated Maria Halford, vice president of global marketing for ProAmpac. "We are excited that our latest innovation in sustainable packaging is able to fill an existing gap in the marketplace to meet the growing demand for greener solutions."
ProActive Recyclable QUADFLEX is a premium recyclable polyethylene quad-seal style flat bottom bag that features the benefits of both ProAmpac's durable QUADFLEX bag format, and ProActive Recyclable film structure. Approved for store drop-off recycling through polyethylene recycling streams, the premium quad-seal, flat bottom format features:
Five panels of billboard space to deliver enhanced store shelf presence and a sturdy design to allow the pouch to free stand on the shelf
Reclosable options such as an Aplix zipper offering ease of use while preserving product freshness
An optional clear window or side gusset option to provide product visibility
Accommodate filled product up to 15lbs and can be used in lawn & garden; dry pet food and treats; dry snacks; cereals; confectionary; and frozen food applications
"This was an exciting project to work on. One of the key challenges we faced was how to create a recyclable structure that met seal strength requirements and provided the barrier needed to lock in product freshness," stated Vance Fortenberry, director of product development for ProAmpac.
Collaboration Innovation
"After an exhaustive search, High Island Organics chose to partner with ProAmpac because of their unique approach to innovation and expansive technical expertise. Using ProAmpac's quad-seal bag, we were able to bring to market a well-crafted and reliable recyclable package which reflects the needs of our customers and our company's mission of livability," noted Michael Asmus, co-founder of Agricultural Innovations, LLC and producer of High Island Organic fertilizers. "We are excited to collaborate with ProAmpac on our future product line expansion."
"We embrace High Island Organics' commitment to offer more sustainable packing. ProAmpac is proud to be able to offer greener materials in our packaging products, without sacrificing performance. In addition, our company is engaging employees, collaborating with suppliers and customers, and teaming with neighbors to make the communities in which we operate, as well as the packaging we make, even better," Halford said.
To learn more about ProAmpac's ProActive Sustainability offerings, contact Nathan Klettlinger at Nathan.Klettlinger@ProAmpac.com or go to ProAmpac.com/Sustainability
About High Island Organics
Our family has been raising animals and crops on the same land in rural Minnesota for four generations. When our family settled here in 1910, it was the typical family farm. With the business now in its fifth generation, our family has expanded into the organic fertilizer market.
High Island uses the chicken manure from our hens to produce high-quality organic, heat-treated fertilizers. We take huge pride in diligently caring for our hens, and we do the same with our customers. Our goal: to offer high-quality organic fertilizers, soil additives, gardening products, and more to customers across the United States and around the world.
About ProAmpac
ProAmpac is a leading global flexible packaging company with a comprehensive product offering. We provide creative packaging solutions, industry-leading customer service and award-winning innovation to a diverse global marketplace. ProAmpac's approach to sustainability – ProActive Sustainability® — provides innovative sustainable flexible packaging products to help our customers achieve their sustainability goals. We are guided in our work by four core values that are the basis for our success: Integrity, Intensity, Innovation, and Involvement. Cincinnati-based ProAmpac is owned by Pritzker Private Capital along with management and co-investors. For more information, visit ProAmpac.com.
About Pritzker Private Capital
Pritzker Private Capital partners with middle-market companies based in North America with leading positions in the manufactured products, services and healthcare sectors. The firm's differentiated, long-duration capital base allows for efficient decision-making, broad flexibility with transaction structure and investment horizon, and alignment with all stakeholders. Pritzker Private Capital builds businesses for the long term and is an ideal partner for entrepreneur- and family-owned companies. For more information, visit PPCPartners.com.