H&V Announces North American Investment in Technostat® Production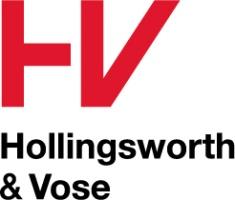 East Walpole, Mass. – November 13, 2013
Hollingsworth & Vose announces plans to add Technostat Filtration Media production capability in its plant in Floyd, Virginia. Val Hollingsworth, President and CEO, commented,"We are very pleased to continue to grow and invest in Floyd VA. H&V has been operating there for nearly 40 years. We are fortunate to have a lot of great people and we appreciate the support from Floyd County and the State of Virginia."
Additional production will support the successful launch of Technostat Plus and the ongoing demand for Technostat. "This strategic expansion of our Floyd site will provide capacity to support the increasing demand in North America for high performance synthetic filter media. This state of the art production line will produce H&V's patented Technostat and Technostat Plus electret filter media which provides high efficiency filtration with very low pressure drop", said Mike Clark, Division President, High Efficiency and Specialty Filtration.
The Floyd production line is expected to begin operation by the Fourth Quarter, 2014. H&V currently manufactures Technostat and Technostat Plus media in Europe.
About Hollingswoth & Vose
Hollingsworth & Vose Company is a global leader in the supply of technically advanced engine, high efficiency and liquid filtration media, battery separator materials and industrial nonwovens. The company operates manufacturing sites and research centers in the Americas, Europe and Asia.
Contact:
Per Lindblom
Global Product Marketing Director
Per.Lindblom@hovo.com
1-508-850-2261