Imerys raises diaper need awareness with Mother's Day diaper drive

Roswell, Ga. – Over the past month, Imerys has been raising awareness about the need for clean diapers in a Mother's Day themed diaper drive at their US headquarters in Roswell, Ga. Imerys has collected over $1,222 and 2,618 diapers in donations which will be given to the Atlanta Community Food Bank.
Huggies® conducted a study in 2010 and found that almost 6 million children live in poor or low-income homes in the United States and about 1 in 3 mothers experience diaper need. Diaper need is defined as the struggle to provide babies with an essential need – diapers. Some mothers face having to clean out and reuse soiled diapers or have to choose between diapers and other basic needs like food[1].
« In Georgia, neither the food stamp program nor WIC covers diapers, therefore making it difficult for struggling mothers to provide these essential items for their babies»
said Renita Anderson, Director of Marketing for the Carbonates North America division of Imerys. Mrs. Anderson, who is a mother herself, passionately brought the diaper drive idea to Imerys after learning about the need from an INDA (Association of the Nonwovens Fabrics Industry) presentation by the executive director of the National Diaper Bank Network. She commented that,
«With Imerys' position as a raw-materials supplier to the diaper industry, this need really hit close to home for us. It's nice to be able to give back locally within an industry we supply».
If you would like to learn more about Imerys, please visit www.imerys.com.
To see how you can help the Atlanta Community Food Bank with diaper need this mother's day, visit www.acfb.org.
The world leader in mineral-based specialty solutions for industry, with €3.7 billion revenue and 15,800 employees in 2013, Imerys transforms a unique range of minerals to deliver essential functions (heat resistance, mechanical strength, conductivity, coverage, barrier effect, etc.) that are essential to its customers' products and manufacturing processes.
Whether mineral components, functional additives, process enablers or finished products, Imerys' solutions contribute to the quality of a great number of applications in consumer goods, industrial equipment or construction. Combining expertise, creativity and attentiveness to customers' needs, the Group's international teams constantly identify new applications and develop high value-added solutions under a determined approach to responsible development.
---
[1]Huggies, (n.d.), What is Diaper Need? Retrieved from http://www.huggies.com/en-US/promotions/everylittlebottom/the-diaper-need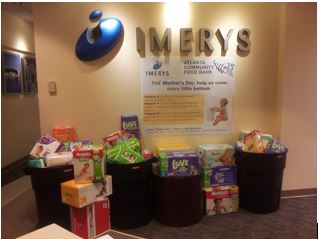 Contact Information
URL:
www.imerys.com
Company:
IMERYS Performance Minerals