Implementing Process Control with MoistTech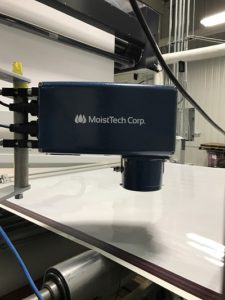 June 7, 2017 – Sarasota, Florida – Instrumentation and process control are essential aspects of the manufacturing line in the Nonwovens industry and many process variables are used for proper control. Coat weight & thickness measurement & control has countless benefits on the manufacturing line including: higher quality final product, consistency of the final product, reduced energy costs from downtime, less waste, plant production efficiency monitoring, lower costs and increased productivity.
MoistTech Corp.™ has mastered the art of coat weight & thickness measurement and control utilizing cutting edge Near-Infrared (NIR) technology to help you achieve a superior product. Insensitive to material variations such as particle size, material height and color and gaps in product, these state-of-the-art sensors provide continuous, reliable readings with zero maintenance. There is a one-time calibration with a non-drift optical design allowing operating personnel to confidently make immediate process adjustments based on real-time measurements. With top of the line components, these sensors can be installed in the most extreme conditions and locations.
Contact Information
Email:
shammond@moisttech.com
URL:
http://www.moisttech.com
Phone:
9413517870
Company:
MoistTech Corp.