ITW DYNATEC Will Showcase Award-Winning Solutions for The Disposable Hygiene Industry at IDEA16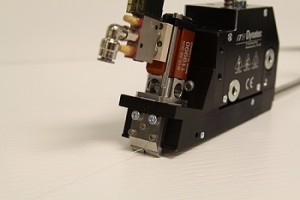 (Hendersonville, TN – April 2016) ITW Dynatec, a global supplier of hot melt equipment and solutions, has been recognized as an IDEA16 Achievement Awards finalist in the equipment category for its Ultra™ Strand Coating System (SCS). The company will feature this innovative technology and other award-winning solutions for the disposable hygiene market at IDEA16, Boston Convention & Exhibition Center, Boston MA from May 2-5 at Booth #1209.
ITW Dynatec and IDEA/INDA – A Distinguished history
ITW Dynatec will once again be a featured exhibitor as well as an awards finalist at IDEA16. Sponsored by the Association of the Nonwoven Fabrics Industry (INDA), the IDEA16 Conference and Exposition serves the global nonwovens/engineered fabrics industry. ITW Dynatec has a distinguished history with the triennial IDEA event as a multiple award recipient from past shows. In 2010 and 2013, the company won the "Most Innovative Technology" award in the equipment classification, making them the first company ever to receive back-to-back recognitions in that category. This year, ITW Dynatec looks to make 'IDEA history' again by being recognized for its Ultra™ Strand Coating System (SCS).
Ultra™ Strand Coating System (SCS)
The ITW Dynatec Ultra™ Strand Coating System (SCS) is a revolutionary patent-pending strand applicator that is specifically designed for the disposable hygiene market. SCS technology brings the highest level of efficiency to the application of adhesive coatings on elastic strands for enhanced manufacturing line efficiency and superior end product performance. Ultra SCS key features include: high-speed technology (up to 1,400 pads per minute); Rapid Change-Over (RCO) design for quicker maintenance; Ultra-stitch and Ultra-touch nozzle designs to meet multiple requirements; Integrated hardened steel elastic strand guides for extended lifespan; Larger adhesive orifices for less plugging and higher line efficiency; Optimized module technology for faster response and longer cycle life; and the lowest usage of adhesive available with total creep strength down to 1% (even as low as 15 grams/linear meter/strand).
Vector™ Surge Applicator
ITW Dynatec's Vector Surge Applicator will also be on display at IDEA16.  The Vector Surge Applicator was recognized as "Most Innovative Equipment Technology" at IDEA13, and received an EDANA Industry Excellence Award at the 2014 INDEX Nonwovens Exhibition in Geneva.  The Surge Applicator is an advanced add-on technology to the company's Vector Metered Platform that also won a "Most Innovative Equipment Technology" award at a previous IDEA show. It extends the capability of the Vector Metered Platform by providing precise variable volume capability in all orientations. The surge process provides heavier adhesive application where needed, and lighter volumes elsewhere on the substrate for extensive raw material savings, reduced machine maintenance, and energy savings. Because Surge's pumps are on the applicator, a correct metered amount of adhesive is always guaranteed, regardless of volume, throughout the ramp cycles as well as steady state.
Vector™ Metered Platform offers precise point of application metering to reduce waste, resulting in adhesive savings up to 50%. The true innovation of Vector lies not just in its precision capabilities, but also in its single hose inlet and built-in network of adhesive delivery locations that makes it simple to adapt to specific applications. Unlike traditional applicators, Vector is mounted in close proximity to the application point for greater accuracy. Vector also accommodates up to six individual hose units per drive for metering individual flows to each application. In addition, the pump design enables rapid changeover, reducing downtime when changing adhesive weights, or switching products.
UFD™ ELITE SERIES NOZZLES
Also on display at IDEA16 will be the redesigned UFD Elite Series Nozzles. The nozzle design and applicator improve performance while reducing the frequency of maintenance and nozzle replacements. UFD premium, high-performance nozzle technology is ideally suited to DHP, C&L and product assembly applications. This new, simplified version
of the patented UFD applicator nozzle features larger orifices and fewer, thicker plates. UFD Elite Series Nozzles orifice entry passages were increased in size up to 50% and flow paths were improved to allow for more even distribution across the nozzle and higher fluid velocity. Now consisting of 5 total plates at 9.5mm thick (versus 11 plates at 11.1mm thickness), this more robust nozzle has been designed using computational fluid dynamics to optimize adhesive flow, resulting in reduced nozzle plugging and better pattern consistency.
ITW DYNATEC AND THE Disposable Hygiene INDUSTRY
ITW Dynatec brings more than 50 years of experience, ingenuity and solutions to the disposable hygiene industry. Laurie Hume, Global Sales Director for ITW Dynatec commented, "The disposable hygiene sector is constantly evolving as manufacturers update and improve their products. We are aggressively responding to these challenges with unique bonding solutions that reduce material and energy usage, increase output, allow for more precise application, and lower overall production costs."
ITW DYNATEC WELCOMES MEMBERS OF THE GLOBAL MEDIA
Representatives from ITW Dynatec's global team of hot melt and disposable hygiene experts will be attending IDEA16 this year, and will be available to demonstrate the capabilities of the company's complete range of bonding and sealing equipment and solutions, specifically designed for the disposable hygiene market. ITW Dynatec cordially welcomes writers, editors and publishers representing the global media at IDEA16, and is scheduling press appointments at this time. To schedule a meeting or interview, please contact Sandra Rothen (Tel: +49-2104-915-122) or email Sandra.Rothen@itwdynatec.de with the Subject: "IDEA Media Request." Drop-ins also are welcome to visit the company's exhibit, Booth #1209.
# # # #
ABOUT ITW DYNATEC
ITW Dynatec is a global leader in Innovative Technologies for the Personal Care Market. The Company focuses on robust solutions to help our customers achieve high-level productivity and sustainable cost reduction, while delivering the best products to end-users worldwide. Hot melt systems and solutions from ITW Dynatec are used globally in the manufacturing of diapers and a wide range of other consumer and industrial products. The company's state-of-the-art technology is backed by a worldwide network of industry leading customer service and support. ITW Dynatec operates five world-class production facilities strategically located around the globe.
ABOUT IDEA16
The International Engineered Fabrics Conference and Exposition (IDEA) is sponsored by the Association of the Nonwoven Fabrics Industry (INDA).  Held every three years, the event brings together hundreds of companies in the nonwovens & engineered fabrics industry for intelligence gathering, product launch/marketing, and industry award recognitions.  Founded in 1968, INDA provides thought-leadership and advocacy for member companies in the nonwovens/engineered fabrics industry.
For more information on ITW Dynatec, please visit www.itwdynatec.com
Contact Information
Email:
sandra.rothen@itwdynatec.de
URL:
www.itwdynatec.com
Phone:
Sandra Rothen, Global Marketing Manager, Tel. +49 2104 915 122
Company:
ITW Dynatec