Mask-Alliance Bavaria: New partners advance the alliance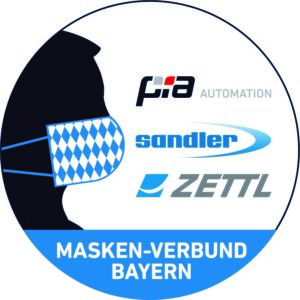 Schwarzenbach/Saale, Germany, November 26, 2020 – High quality and effectiveness of protective masks, particularly those for medical personnel, are indispensable prerequisites to provide protection from new infections and thereby contribute to containing the corona pandemic.
In May 2020, three key companies of the industry joined together in the Mask-Alliance Bavaria: Sandler Group, high-tech producer of nonwovens from Schwarzenbach/Saale, PIA Automation, automation specialist from Amberg, and Zettl Group, leading supplier of products for automotive interiors from Weng. From base material, to machinery, to the production of the finished product, they set up an entire value chain for the manufacture of face masks in Bavaria. The overriding objective of the alliance is to ensure increased safety and quality standards and security of supply for personal protective equipment in the country even beyond the corona pandemic. A dependence on foreign suppliers should be avoided in future. Moreover, sustainable product solutions and maximum recyclability are focal topics.
With a view to increasing effectiveness, safety, usability, as well as the sustainability of face masks new materials and procedures are continuously being tried and tested. In order to further advance this development new partners want to join the Mask-Alliance Bavaria.
Professor Clarissa Prazeres da Costa,  infectiologist, senior physician for medical microbiology and infection epidemiology, and co-director of the Center of Global Health of the Technical University of Munich (TUM), and her colleague Magnus Fröhling, professor for Circular Economy at TUM, as well as professor Franz-Xaver Reichl, microbiologist, pharmacologist and toxicologist, of Ludwig-Maximilians-University Munich (LMU), and product safety experts from the team of  Jörg-Timm Kilisch of the German organization DEKRA, want to contribute their comprehensive know-how to the development of new medical masks.
Bayern Innovativ (Bavaria innovative), an organisation that facilitates innovation and knowledge transfer in the state, supports the alliance in identifying suitable funding programmes and in developing further competences within the scope of its cluster and networking activities.
The intended close cooperation of member companies, research institutions and testing authorities aims to bring together the specific key competences and enable a swift transfer of knowledge and technology to small and medium-sized enterprises, the medical sector, and standardisation. Insights obtained from this cooperation could also be applied to protective masks for kids or to a second generation of simpler mouth-nose-protection masks.
With these endeavours, the Mask-Alliance Bavaria is taking the next steps towards quickly and focally advancing mask development and production in Bavaria.
 Learn more about the Mask-Alliance Bavaria on our website
www.masken-verbund-bayern.de/en/ .
About PIA Automation:
PIA Automation is an international group of companies and offers technically complex and economically efficient solutions in automation. PIA inhouse resources provide a perfect interaction of mechanics, electronics, programming, measurement technology, documentation, image processing, robotics, research and development, everything from a single source. Services range from manual assembly workstations to fully automated production lines. PIA takes into account the trends in the digitalization and interlinking of the manufacturing processes with its own IoT solutions. PIA's competence center for medical technology is located in Amberg, where numerous healthcare products have already been automated successfully.
About Sandler Group:
Sandler Group is one of the world's largest nonwovens manufacturers. At its headquarters in Schwarzenbach/Saale, Germany, the family-run company develops and manufactures nonwovens for a wide range of applications in construction/engineering, filtration, home textiles, hygiene, transportation and wipes. Since 2016, the U.S. subsidiary Sandler Nonwoven Corporation in Perry, Georgia, manufactures Sandler Nonwovens "made in USA". Sandler brings over 20 years of experience and technological know-how in manufacturing synthetic air filtration media to the production of nonwovens for face masks.
About Zettl Group:
The Zettl Group has stood for excellent solutions in the automotive and interior sectors over the past 30 years. Leading global companies from the automotive industry trust in the expertise made in Bavaria.
Zettl Automotive is specialized in technical services in the field of quality management for various product areas and processes along the entire value chain.
Zettl Interieur is the leading partner for the development and engineering of high-quality components in the leather sector. We also produce vehicle prototypes, small series and exclusive individual parts.
Owing to the previous orientation and focus on the interior area in automotive engineering and the experience gained in this sector, the additional business field Healthcare, involving the development and production of high-quality, certified masks, was opened up very quickly.