NatureWorks and US Pacific Nonwovens present Ingeo at ANEX 2012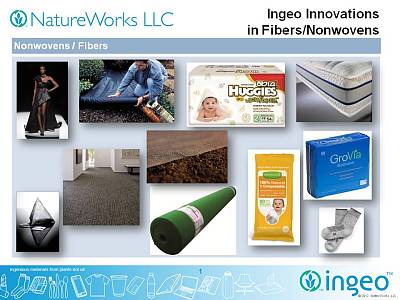 NatureWorks and US Pacific Nonwovens present Ingeo at ANEX 2012
From June 13-15, 2012 the world's nonwovens industry will gather in Kintex, Korea for ANEX.
www.anex2012.com
The latest developments in nonwoven applications for Ingeo™ biopolymer, a low-carbon-footprint polymer made from renewable plant material, not oil, will be on display in the NatureWorks/US Pacific Nonwovens booth H3, including a range of final products demonstrating the commercial reality of Ingeo.
Over the last few years, significant advances have been made with both spunbond and meltblown fabrics. These advances, combined with the broad range of commercially available Ingeo staple fiber products provide real options to satisfy growing consumer desires for more products with green credentials and positive environmental impact, without sacrificing performance.
Stop by to see the array of Ingeo nonwoven innovations in booth H3 at ANEX, and discuss with the NatureWorks team how Ingeo nonwovens can be incorporated into your products.
For more information on Ingeo solutions for nonwovens, visit www.natureworksllc.com
About NatureWorks
NatureWorks LLC is a company dedicated to meeting the world's needs today without compromising the earth's ability to meet the needs of tomorrow. NatureWorks LLC is the first company to offer a family of commercially available, low-carbon-footprint Ingeo™ biopolymers derived from 100 percent annually renewable resources with performance and economics that compete with oil-based plastics and fibers, and offering brand owners new cradle-to-cradle options after the use of their products. In October 2011, Thailand's largest chemical producer, PTT Global Chemicals, entered into an agreement to make a $150 million equity investment in NatureWorks. The transaction remains subject to regulatory clearances. For more information on NatureWorks and Ingeo™, visit www.natureworksllc.com. Follow NatureWorks on Twitter (@natureworksllc) for the latest updates.
Ingeo™ and the Ingeo™ logo are trademarks or registered trademarks of NatureWorks LLC in the USA and other countries.
US Pacific Nonwovens is NatureWorks Asia Pacific Agent for sales into spunmelt nonwovens applications.