NDC Technologies introduces its versatile FilmProTM infrared measurement sensor for film, sheet and coating applications
NDC Technologies introduces its versatile FilmProTM infrared measurement sensor for film, sheet and coating applications
NDC Technologies, a leading global provider of precision measurement and control solutions, announces FilmPro, its new, modular high-performance infrared thickness sensor. FilmPro is a universal single-sensor solution for film, sheet and coating measurement applications including thin film to thick sheet products with multi-layer discrimination. FilmPro's new optical engine has been enhanced to improve signal-to-noise, accuracy, web flutter and the effect of optical interference.
FilmPro is NDC's most versatile infrared gauge to date, measuring clear, pigmented, voided / pearlized products, plus tints in total or as stripes. It measures the true thickness a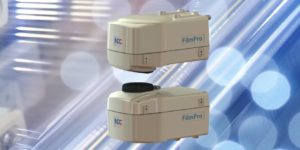 nd weight of voided, microporous or breathable films and derived density. It can measure costly barrier materials, such as Nylon, EVOH or PVDC simultaneously with other polymers such as PE, PP or Ionomer.
An issue confronting the accurate infrared measurement of thin films is called Optical Interference (OI). This can negatively affect the accuracy of infrared film measurement due to reflected light within thin film structures. FilmPro's new innovative design has an optional Fringe Suppression Optics (FSO) module with a more efficient optical engine that is unaffected by film thickness changes and scanner misalignment or run-out.
For biaxially orientated films, FilmPro provides unique direct thickness measurement of clear, filled or voided / pearlescent films. It addresses the issue of measuring the thickness of voided films and materials that exhibit density variation with its patented optical design, selection of discrete near infrared wavelengths and powerful sensor algorithms that combine to directly measure the true thickness and mass of these films.
For blown film applications, FilmPro can measure up to six individual product components using a single gauge. These include total film thickness measurement of coextruded products including PET, PP/PE, PS, PVC, EVOH, PMMA, PA and Ionomer. FilmPro can also measure other high-value blown films such as laminating grades, protective films, and agriculture films.
For cast film applications, FilmPro provides superior measurement performance for CPE, CPP, cast stretch film, embossed cast films, barrier films, PVB Windshield / window films, and breathable films. With embossed films, FilmPro can handle most colors except very dark / opaque films, while cast stretch film measurements include clear, tinted colors and black tinted products.
Finally, FilmPro can measure organic or water-based coatings on film by simultaneously measuring the substrate thickness and the coating thickness.
For more information, please visit www.ndc.com

Contact Information
Email:
rshead@ndc.com
URL:
www.ndc.com
Phone:
+1 626 939-3856
Company:
NDC Technologies