New Durable Hydrophilic Ingeo Nonwovens Technology for Absorbent Hygiene Products

The new hydrophilic system for nonwovens combines Ingeo's unique chemistry with tailored topical treatments to improve fluid management, durability, and breathability.
MINNETONKA, Minn., (October 5, 2017) — NatureWorks announces the development of a durable hydrophilic formulation that can promote skin health through improved fluid management and increased breathability for absorbent hygiene applications such as diapers, adult incontinence, and feminine hygiene products. In diapers, the combination of custom surface treatments with Ingeo-based nonwoven fabric for the topsheet can reduce the use of super absorbent polymer (SAP) or pulp by up to 30 percent for thinner, more comfortable, and cost-effective products.
"This innovative technology for Ingeo nonwovens delivers higher performance than polypropylene in fluid management metrics that are key to delivering superior skin health," said Aman Kulshrestha, Ph.D., Principal Scientist, NatureWorks. "The versatility of the new system gives manufacturers the ability to create new structures and differentiate their products."
Kulshrestha summarized the benefits of the new durable hydrophilic system for Ingeo nonwovens:
Surface energy can be tailored via the topical treatments designed specifically for Ingeo nonwovens, enhancing fluid management with improved strike-through, re-wet, and run-off metrics
Improved permanence / durability reduces the amount of topical treatment needed for nonwovens and reduces wash-off

In diapers, using this Ingeo nonwovens system for the topsheet can increase the efficacy of the absorbent core, enabling a reduction in SAP or pulp by up to 30 percent

Reduced aging maintains fluid management performance and increases shelf life of hygiene products
Improved breathability due to Ingeo's higher water vapor transmission rate
Easy to manufacture via spunbond, meltblown, or staple fiber processes
Biobased material with lower carbon footprint
Key performance improvements over polypropylene
With this durable hydrophilic technology, Ingeo nonwovens surpass polypropylene in key measures of fluid management. The passage of fluid through the new Ingeo nonwoven system is faster and more sustained as measured by both strike-through and run-off. These nonwovens resist re-wet two times better than polypropylene. Significantly less surface finish is needed on the fabric compared to polypropylene, which decreases the potential for skin irritation. Durability in the new formulation is also higher compared to polypropylene as less surface finish is washed off and surface tension remains high.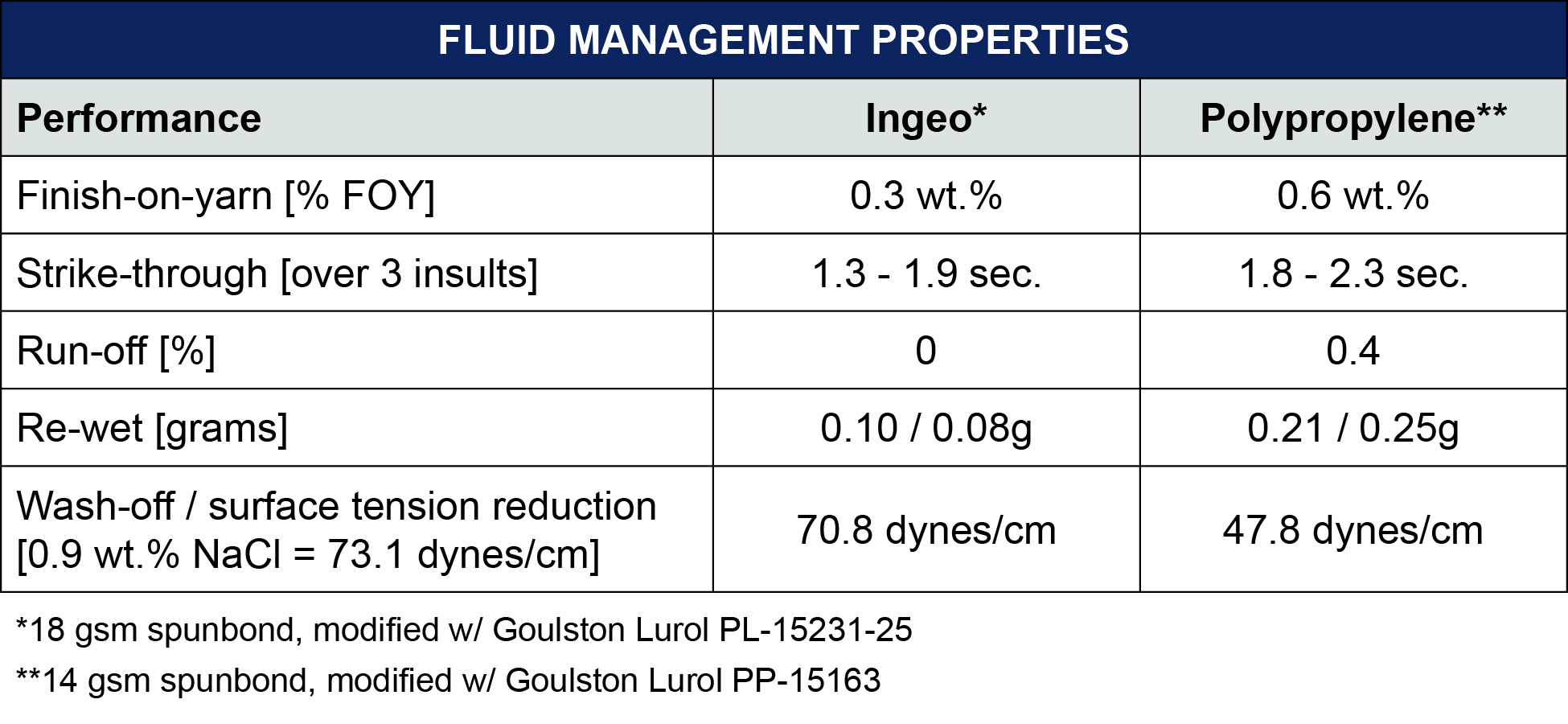 The hydrophilic formulation delivers improved aging characteristics that prolong hygiene product shelf life. Additionally, melt spinning and calendering optimization studies showed that a range of fabric improvements are possible to improve softness, tensile strength, and elongation in Ingeo nonwovens.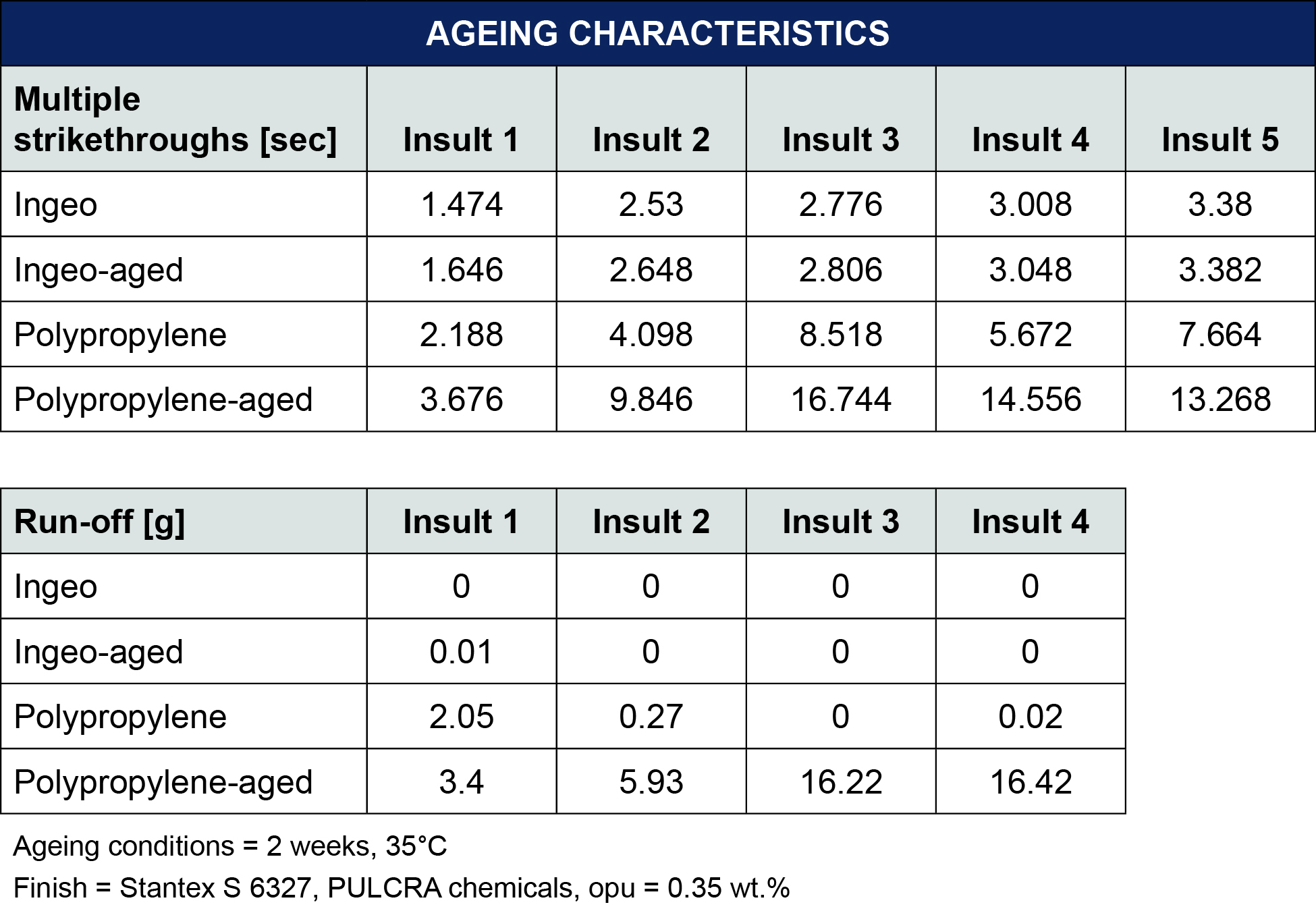 NatureWorks engaged with channel partners in the development of tailored topical treatments for Ingeo nonwovens and ensured solutions work across typical nonwoven manufacturing processes such as spunbond, meltblown, and staple fibers. "We hope to partner with manufacturers and brands in North America, Asia, and Europe that are looking for ways to revitalize hygiene products through these custom structures," said Tim Vanyo, Principal Applications Engineer for NatureWorks. "Our applications development expertise in tailoring this durable hydrophilic system can help create the right properties for a customer's application."
Aman Kulshrestha will provide details of the new durable hydrophilic Ingeo nonwovens at the Hygienix conference in Austin, November 6-9. For additional information, write to inquiry@natureworksllc.com, and visit NatureWorks Fibers and Nonwovens for an overview of Ingeo-based solutions.
###