"NO FIBER LEFT BEHIND™" – Martex Fiber celebrates Earth Day and its commitment to the environment through new expansion.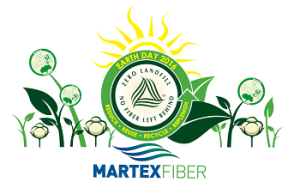 SPARTANBURG, SC – April 22, 2016
Martex Fiber Southern Corp. (Martex) – Expanding on its campaign of ZERO Landfill and "No Fiber Left Behind™" Martex is pleased to announce an expansion at their Brownsville, Texas facility with a new fiber reclamation line.  The new line in Brownsville is part of a continued commitment to preventing textile waste from going to landfill and developing innovative new sustainable products.  The expansion in Brownsville strengthens Martex's goal of bringing more recycled products mainstream to both consumers as well as industrial markets.
According to Steve Lister, CEO of Martex, "We continue to see strong demand and opportunities for our recycled textile products.  The products we are delivering today support sustainability and cost efficiency efforts across our supply chain and a multitude of markets, which is critical in today's business climate.  We have some great new innovations in the pipeline and look forward to their rollout in the near future."
As part of Martex's Earth Day celebration, they have launched a video further promoting the preservation of textile waste and social awareness of the need for everyone to put forth their best efforts to preserve the environment and minimize our carbon footprint.  The link to the video is attached here www.martexfiber.com/earth-day-2016.
Martex is known for its collection of textile waste clippings and selvages from apparel and upholstery manufacturers in the US and Central America.  With large collection and processing facilities in Central America, Spartanburg, SC and Brownsville, TX, fabrics are deconstructed and fibers blended into a variety of custom fiber mixes that can be put back into industrial processes such as blowing, garnetting, airlay, needlepunch and spunlace.  Many of the recycled fiber applications serve as inputs for manufacturers throughout the Americas, supporting automotive, bedding, nonwoven and furniture markets.   Another use for cotton apparel waste is refiberization for yarn spinning.   Martex takes the fiber full circle, creating ECO2cotton® yarns which are spun domestically in its Jimtex Yarns facility, located in Lincolnton, GA, for many apparel applications as well as home furnishings.
Martex Fiber products are SCS certified for recycled content and made in the USA.
Contact Information
Email:
mwilliamson@martexfiber.com
URL:
www.martexfiber.com
Phone:
Marc Williamson (215) 928-1767
Company:
Martex Fiber Southern Corp.