Pinnacle Awarded Provisional Patent for Ultrasonic Tabbing in Wipes Roll Production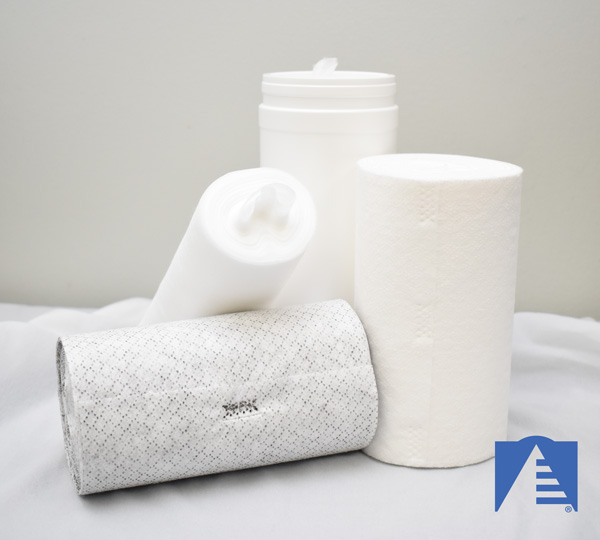 Charlotte, NC June 28, 2021 – Charlotte-based Pinnacle Converting Equipment & Services, LLC ("Pinnacle"), is pleased to announce the filing of a provisional patent involving the process of ultrasonically tabbing rolls of wipes. This process ensures roll closure in order to prevent unravelling during canister wipes production. This ultrasonic tabbing process is officially listed as "Patent Pending" and will transition into a full utility patent within the next 12 months.
Since the beginning of the Covid-19 pandemic, the demand of non-woven wipes has increased significantly. As production has ramped up, the need for controlling the "end-of-roll" material by adhering or "tabbing" the tail end of a roll to the layer underneath it has been a growing production feature to assist in the subsequent steps of production.
During the production of rolled wipes, rolls of non-woven material are perforated, slit, and rewound from larger master rolls. The slitting process cuts the material to a specific width to ensure that rolls can fit inside their designated canister and the perforating process provides the end-user with a method to pull individual sheets as needed. After the rolls are perforated and slit, they are transported to the roll stuffing and canister filling phases of production. It is during these phases where this Patent Pending "tabbing" method qualifies itself as a necessity in the wipes manufacturing process.
In many current roll production lines, the leading edge of the rolled material is held in place by a winding spindle, while the material on the outside of the roll may remain free after winding. If not properly secured, the "end-of-roll" may unravel causing manufacturing issues in the form of waste and delays between the roll doffing and roll stuffing phases of production. In most cases, a roll that has become unraveled will complicate the roll stuffing phase of production preventing the canister from being properly stuffed, sealed, or capped. As a result, improperly sealed canisters are re-located to landfills and do not make it to the anticipated end-user. In order to prevent these types of production issues, the free end must be secured during transport to the stuffing phase of production.
Prior attempts to 'tab' with adhesive or to ultrasonically adhere the free end have left material unusable. Previous methods also require that rolls have more sheets per roll in order to achieve the advertised usable sheet count. Consequently, during the recent increase in demand, this problem in production has been magnified.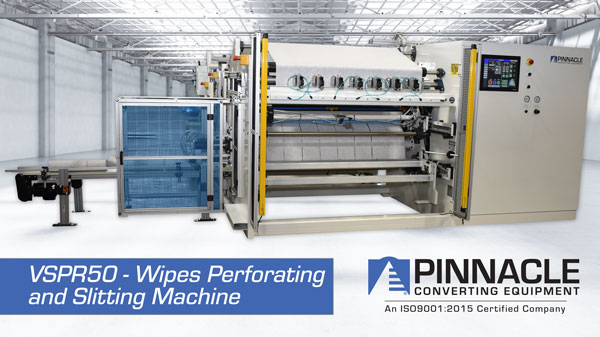 The latest Patent Pending method of tabbing was first implemented in 2021 on Pinnacle's VSPR-50. The VSPR-50 was designed and built in the United States specifically to perforate and slit non-woven material used in canister wipes production. For the manufacturer, not only is this method of tabbing a faster and more effective method of securing the end of the roll to itself, it reduces or eliminates the need to overcount the number of sheets per roll and reduces waste. From a consumer standpoint, it generates higher yield per roll and also decreases the amount of waste that is frequently disposed of in landfills.
Rolls of sheet material (i.e., nonwoven sheets) have become a staple component of certain commodity products, such as disinfecting wipes. While canister wipes have been an effective tool in disinfecting surfaces for quite some time, the production of and demand for these wipes has significantly increased during the COVID-19 pandemic. Per the North American Nonwovens Industry Outlook report from INDA (Association of the Nonwoven Fabrics Industry), it is expected that with the passing of the pandemic, "nonwoven wipe sales to end users will grow to $13.4 billion by the end of 2024 at an average annual growth rate of 4.9 %." Pinnacle expects that the new technology on their machines will streamline the manufacturing process, decrease waste, and increase end-user satisfaction.
About Pinnacle Converting Equipment
Located in Charlotte, NC, ISO9001:2012 certified Pinnacle Converting Equipment & Services, LLC builds custom machines to assist in manufacturing products used in industries ranging from aerospace to healthcare. Our specialties include slitter rewinders, sheeting machines, laminating and custom converting machine integrations designed and built to automate processes in demanding industrial manufacturing environments. Its equipment is used for converting a wide variety of substrates in healthcare, aerospace, battery, automotive, construction and other critical end uses throughout North America. Its custom converting equipment, which is known for its high-quality and ruggedness, is custom designed, engineered, and manufactured for unique, demanding applications with a focus on automation and advanced technologies.
Contact Information
Email:
steve@pinnacleconverting.com
URL:
https://pinnacleconverting.com
Phone:
704-376-3855
Company:
Pinnacle Converting Equipment & Services