Please visit HDK's new website!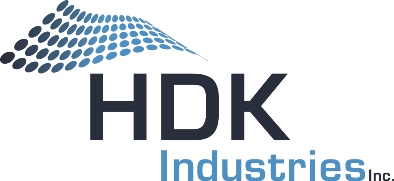 HDK Industries is pleased to announce the launch of its newly redesigned, user-friendly website (www.hdkind.com). The site has been updated to contain much more information about HDK, its technology and most importantly, its products. Visitors to the website can quickly and easily navigate through the various markets that HDK serves, gathering information about what the company can offer. In addition, the technology section offers easy to understand descriptions of HDK's process capabilities, allowing potential partners to envision a wide variety of product possibilities that could fit their requirements. "We are a company that excels in providing custom-designed solutions. The new website offers the concepts necessary to form the initial ideas that drive innovation," said Scott Murdock, President of HDK.
HDK serves many different nonwovens markets, including Consumer Products, Filtration, Home Furnishings, Bedding, Geotextile, Medical, Face Mask and many others. The website has information on potential product features for each market. New features include a Job Openings section, a News section and a link to HDK's parent company, Cha Technologies Group. "We hope that the new design gives a better picture of our company. We invite all of our partners in the industry to visit us there – and hope that we forge some new relationships as well", added Mr. Murdock.
Contact Information
Email:
chris@hdkind.com
URL:
http://hdkind.com
Phone:
423-272-7119
Company:
HDK Industries