ProAmpac Debuts ProActive Recyclable™ Standard and High Barrier Packaging Films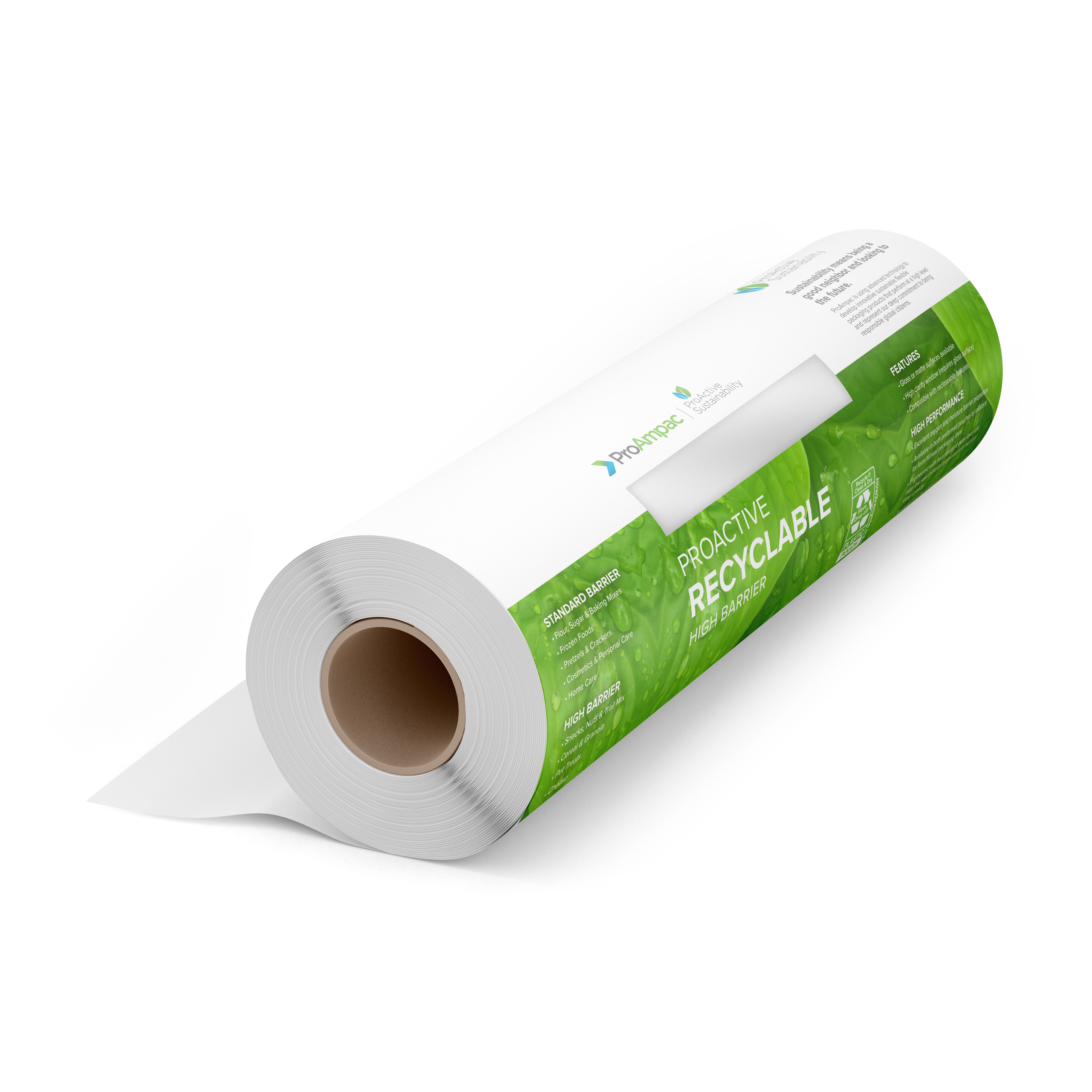 CINCINNATI, Sept. 16, 2019 – Today, ProAmpac announced its ProActive Recyclable R-1000 rollstock film for both vertical and horizontal form fill seal machines. R-1000 is the newest member of the ProActive Sustainability™ product family and is well suited for a broad range of applications such as dry food, home and personal care, and pet food.
Designed to help customers meet their sustainability goals, R-1000 is available in standard or high barrier versions offering a recyclable alternative to traditional laminations. Due to its high heat-resistance, R-1000 outperforms typical mono material films allowing for high speed filling applications with superior seal quality.
"ProAmpac is committed to help our customers meet their sustainable packaging objectives with products that perform at or above existing product performance levels," said Adam Grose, chief commercial officer. "Our new R-1000 offers processing ease at high speeds for both vertical and horizontal filling machines."
Hesam Tabatabaei, director of research innovation and technology for ProAmpac states, "When developing R-1000 we wanted to ensure that it maintained the speed of vertical and horizontal form fill sealing machines and ran much faster than typical mono material films currently on the market. It has been engineered with high heat-resistance that resists 'gum up', burn-through and deformation during high-speed packaging."
The new ProActive Sustainability film is FDA compliant for food contact and qualified by How2Recycle® for in-store drop off. Available in matte, gloss or with ProAmpac's Signature Surfaces® Paper Touch tactile enhancement.
The company will demonstrate the film running on packaging machinery Sept. 23-25 at 2019 PACK EXPO, a major North American packaging trade show at the Las Vegas Convention Center. ProAmpac will also be exhibiting and showcasing their full flexible packaging capabilities in its exhibit (LS-6156).
For information or to see a demonstration contact Nathan Klettlinger, (330) 697-7879 Nathan.Klettlinger@ProAmpac.com.
About ProAmpac
ProAmpac is a leading global flexible packaging company with a comprehensive product offering. We provide creative packaging solutions, industry-leading customer service and award-winning innovation to a diverse global marketplace. ProAmpac's approach to sustainability – ProActive Sustainability — provides innovative sustainable flexible packaging products to help our customers achieve their sustainability goals. We are guided in our work by four core values that are the basis for our success: Integrity, Intensity, Innovation, and Involvement. Cincinnati-based ProAmpac is owned by Pritzker Private Capital along with management and co-investors. For more information, visit ProAmpac.com.
About Pritzker Private Capital
ProAmpac is a member company of Pritzker Private Capital which acquires and operates North America-based middle-market companies with leading positions in the manufactured products, services and healthcare sectors. Pritzker Private Capital's differentiated, long-duration capital base allows ProAmpac the flexibility to invest in serving its customers' needs over the long term. For more information, visit PPCPartners.com.