ProAmpac Presents Packaging Solutions at CPhI North America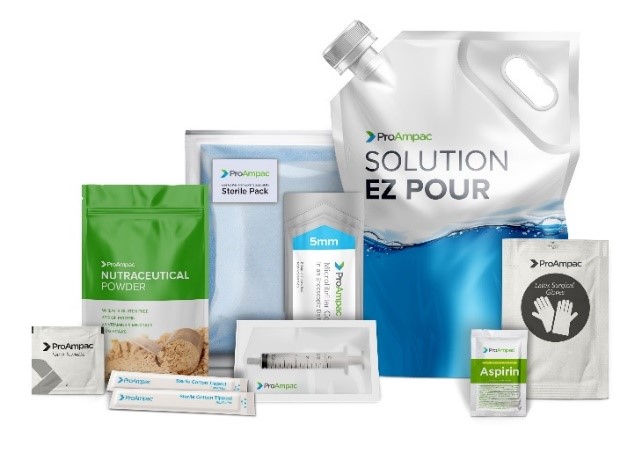 CHICAGO. (May 1, 2019) – Exhibiting its latest developments in medical materials capabilities at CPhI North America, flexible packaging leader ProAmpac today presented its portfolio of health and medical solutions to professionals who make up the continent's complete pharma supply chain.
Exhibiting at Stand 2126, ProAmpac, also invited participants to explore the packaging company's approach to custom packaging solutions through Collaborative Innovation. The event takes place April 30 – May 1 at Lakeside Center, McCormick Place, Chicago.
"We invite the medical community to learn how ProAmpac can meet short- and long-run medical packaging needs for standard and custom product solutions," said Maria Halford, vice president of global marketing for ProAmpac. "Through Collaborative Innovation we will bring our cross-discipline team together with your group and push limits," added Halford.
ProAmpac is showcasing solutions in the following categories:
PRO-PEEL® Medical Our latest innovation in peelable medical film, offers a smooth, consistent and clean peel from itself, other polyethylene-based sealants, uncoated Tyvek®, and selected uncoated medical grade papers with a bright white seal area indicator when peeled to help identify seal integrity of the package.
Chevron Pouches Pre-made Chevron Pouches provide consistent seal/peel strengths in the 1.5lb. – 2.0lb./inch range and can be laminated to most flexible materials, including: Polyester, Nylon, Aluminum Foil, Paper.
Drug delivery ProAmpac is the North American market leader in blow-fill-seal (BFS) extrusion and lamination—currently providing form-fill-seal overwraps, pre-made pouches, as well as the PRO FlexiPURE® family of films. Our drug delivery packaging includes inhalation, liquid and solid oral-dose, injectable, topical/transdermal, and transmucosal applications.
Medical device Our low-extractable barrier lamination and adhesive and extrusion capabilities are used for peelable and non-peelable high-barrier foil and non-foil packaging systems. ProAmpac technologies are found in wipes, syringes, and medical device barrier applications. These include enteral feeding, wound care, casting tape, bone cement, collagen hemostat, orthopedic implants, bone and tissue grafts, electrodes, auto injectors and drug-eluting stents.
Over-the-counter ProAmpac provides flexible packaging for leading over-the-counter pharmaceuticals: poly-coated one-side paper and paper/poly/foil/poly structures for single-dose packaging.
Child-Resistant Flexible Packaging ProAmpac's Child-Resistant Reclosable Easy Open (CRREO) solutions are patented engineered designs used worldwide in consumer, agricultural, pharmaceutical and medical applications.
PRO-BARRIER® Nonwovens ProAmpac is a leader in extrusion coating and extrusion laminating, as well as printing of nonwovens for use as surgical drapes and gowns, patient warming and hypothermia prevention. ProAmpac's multi-coextrusion lines produce coated nonwovens that are soft and drapable yet pass stringent barrier requirements regarding blood and blood-borne pathogens.
ProAmpac maintains a Drug Master File with US FDA as well as Health Canada. These products can be referenced through a requested Letter of Authorization to either of these regulatory agencies. Additionally, we work globally to provide required regulatory documentation to other regulatory agencies that do not specifically have a drug master file system.
To learn how ProAmpac's Home, Health & Beauty team can help you, please contact Bob.Bodell@ProAmpac.com or visit our website at ProAmpac.com.
About ProAmpac
ProAmpac is a leading global flexible packaging company with a comprehensive product offering unparalleled in the industry. We provide creative packaging solutions, industry-leading customer service and award-winning innovation to a diverse global marketplace. We are guided in our work by four core values that are the basis for our success: Integrity, Intensity, Innovation, and Involvement. Cincinnati-based ProAmpac is owned by Pritzker Private Capital along with management and co-investors. For more information, visit ProAmpac.com.
About Pritzker Private Capital
Pritzker Private Capital acquires and operates North America-based middle-market companies with leading positions in the manufactured products, services and healthcare sectors. Led by Tony Pritzker and the former investment and operating professionals of Pritzker Private Capital, the firm's differentiated, long-duration capital base allows for efficient decision-making, broad flexibility with transaction structure and investment horizon, and alignment with all stakeholders. Pritzker Private Capital builds businesses for the long-term and is an ideal partner for entrepreneur- and family-owned companies. For more information, visit PPCPartners.com.