ProAmpac Presents Packaging Solutions at World of Wipes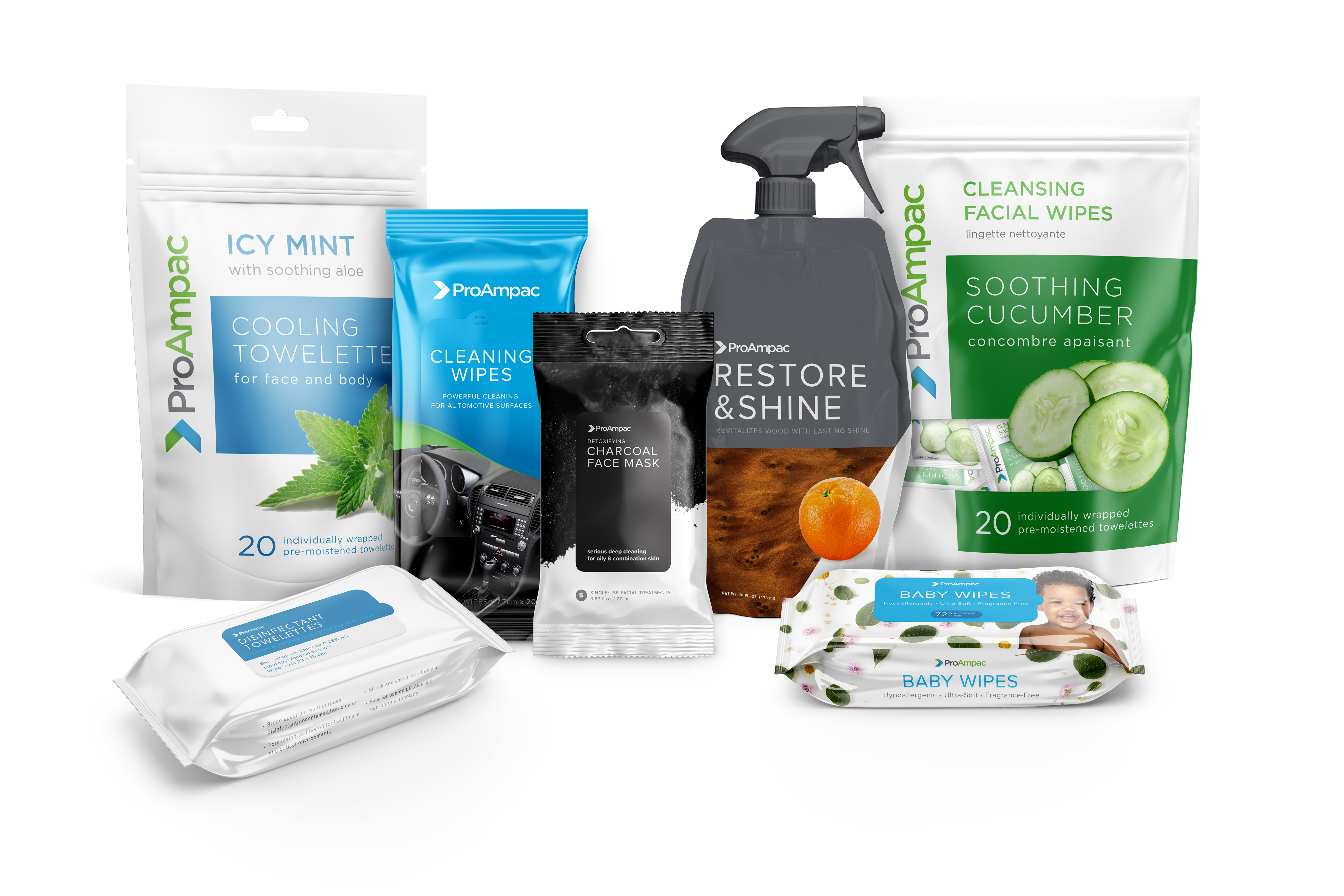 ATLANTA (June 21, 2019) – Exhibiting its latest developments in wipes packaging capabilities at World of Wipes International Conference, flexible packaging leader ProAmpac today presented its portfolio of solutions to professionals who make up the world's complete wipes supply chain.
Exhibiting at Stand 317, ProAmpac, also invited participants to explore the packaging company's approach to custom packaging solutions through Collaborative Innovation. The event takes place June 24 – 27 at the Westin Peachtree Plaza, Atlanta.
For over 20 years, ProAmpac has been delivering flexible packaging solutions for the Home, Health & Beauty markets. With the ability to package hard to hold products and chemicals such as alcohol, iodine, betadine, citric, fragrances, silicones, sodium hypochlorite, chlorhexidine gluconate (CHG), and other challenging ingredients; ProAmpac offers a broad range of rollstock films and premade pouch sizes. Filling order quantities from one to tens of millions, ProAmpac serves a multitude of customers and market requirements.
"Within our multiple manufacturing facilities, ProAmpac offers redundant capabilities, competitive lead times, and a dedicated customer technical service support team," stated Maria Halford, vice president of global marketing for ProAmpac. "Through Collaborative Innovation we will bring our cross-discipline team together with your group and solve product packaging challenges," added Halford.
To learn how ProAmpac's Home, Health & Beauty team can help you, please contact Bob.Bodell@ProAmpac.com or visit our website at ProAmpac.com.
About ProAmpac
ProAmpac is a leading global flexible packaging company with a comprehensive product offering unparalleled in the industry. We provide creative packaging solutions, industry-leading customer service and award-winning innovation to a diverse global marketplace. We are guided in our work by four core values that are the basis for our success: Integrity, Intensity, Innovation, and Involvement. Cincinnati-based ProAmpac is owned by Pritzker Private Capital along with management and co-investors. For more information, visit ProAmpac.com.
About Pritzker Private Capital
ProAmpac is a member company of Pritzker Private Capital which acquires and operates North America-based middle-market companies with leading positions in the manufactured products, services and healthcare sectors. Pritzker Private Capital's differentiated, long-duration capital base allows ProAmpac the flexibility to invest in serving its customers' needs over the long term. For more information, visit PPCPartners.com.