PROAMPAC PRESENTS SUSTAINABLE PET FOOD PACKAGING SOLUTIONS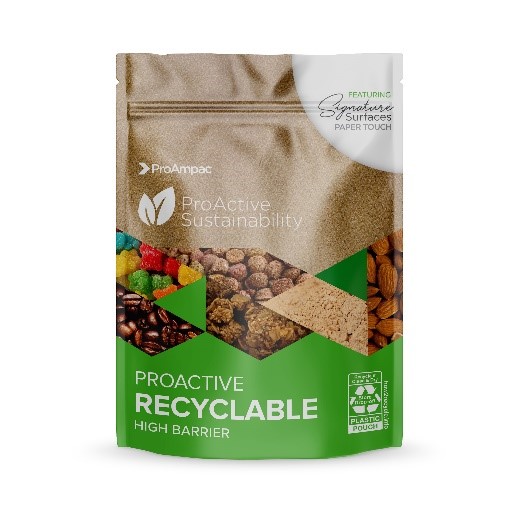 Debuting two innovations: Signature Surfaces ProActive Recyclable Paper Touch and Recyclable QuadFlex®
CINCINNATI (April 29, 2019)   ProAmpac, the flexible packaging leader, arrives in Kansas City at Petfood Forum April 29, introducing its ProActive Sustainability® portfolio of greener packaging options to the largest collection of suppliers to the pet food industry.
"Pet owners' preference for premium products continues to fuel pet food market growth" said Adam Grose, chief commercial officer for ProAmpac.  "We are excited to now offer our customers two new recyclable packaging options that convey a premium image in a sustainable format."
ProAmpac is featuring two new, innovative recyclable packaging options at Petfood Forum: Signature Surfaces ProActive Recyclable Paper Touch coatings and its ProActive Recyclable QuadFlex® Pouch.
New Recyclable Paper Touch
The company announced its new Signature Surfaces Paper Touch is available in recyclable rollstock and pre-made pouches. The groundbreaking Signature Surfaces coating can be combined with glossy graphics or a clear window that creates an eye-popping display sure to attract consumer attention. This material has excellent heat resistance, chemical resistance, and scuff resistance, along with a low seal-initiation temperature for high-speed form/fill/seal (FFS) applications.
"With the feel of kraft paper, ProAmpac's new Paper Touch recyclable films fulfill brands' desires for a sustainable flexible package that supports organic and premium products, like pet food, without sacrificing barrier or performance. This revolutionary material offers either standard or high oxygen and moisture barriers and is pre-approved by How2Recycle for store-drop-off," states Hesam Tabatabaei, director of research, innovation and technology.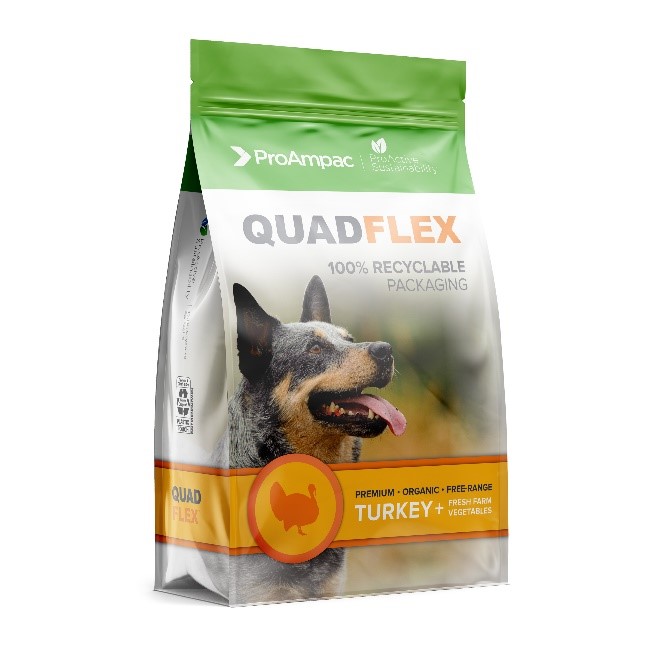 Recyclable QuadFlex® Pouch
"ProAmpac's QuadFlex Pouch is a pioneering, premium solution that is of strong interest to our pet food customers," said Louann Mueller, vice president of research and development for ProAmpac. "The ProActive Recyclable QuadFlex is pre-approved by How2Recycle for store drop-off. This pouch delivers high-quality graphics for a strong shelf presence and is available in small to large sizes with optional oxygen barrier properties."
New ProActive Portfolio of Sustainable Packaging
Just last month, the company introduced four product groups within the ProActive portfolio, solutions that help brand owners and copackers alike meet packaging sustainability objectives. They include:  
ProActive

Recyclable

– Unique, high-performance products which can be processed after use through typical plastic or paper recycling streams. ProAmpac offers recyclable products such as stand-up pouches, quad seal pouches and rollstock for FFS applications.
ProActive

PCR

– Products which contain Post-Consumer Recycled (PCR) plastic from non-virgin, recycled plastic resin sources. ProAmpac can incorporate up to fifty percent food-contact compliant PCR into materials to meet sustainability and carbon footprint reduction goals.

ProActive

Renewable

– Products which are made from a bio-based feedstock, such as corn or sugarcane. ProAmpac has renewable options which can be incorporated into multi-material laminations for pet packaging.

ProActive

Compostable

– Products which biodegrade in industrial composting facilities per conditions set by ASTM D6400. ProAmpac can work with customers to incorporate compostability into their paper and film packaging offerings.
To learn more about ProAmpac's latest ProActive sustainable packaging solutions, visit us at Booth 534 in the Kansas City Convention Center, during Petfood Forum, April 29- May 1 or contact Hesam Tabatabaei Hesam.Tabatabaei@Proampac.com. For more details about ProAmpac pet food solutions, contact us at Marketing@ProAmpac.com  or visit our website ProAmpac.com.
About ProAmpac 
ProAmpac is a leading global flexible packaging company with a comprehensive product offering unparalleled in the industry. We provide creative packaging solutions, industry-leading customer service and award-winning innovation to a diverse global marketplace. We are guided in our work by four core values that are the basis for our success: Integrity, Intensity, Innovation, and Involvement. Cincinnati-based ProAmpac is owned by Pritzker Private Capital along with management and co-investors. For more information, visit ProAmpac.com.
About Pritzker Private Capital
Pritzker Private Capital acquires and operates North America-based middle-market companies with leading positions in the manufactured products, services and healthcare sectors. Led by Tony Pritzker and the former investment and operating professionals of Pritzker Group Private Capital, the firm's differentiated, long-duration capital base allows for efficient decision-making, broad flexibility with transaction structure and investment horizon, and alignment with all stakeholders. Pritzker Private Capital builds businesses for the long-term and is an ideal partner for entrepreneur- and family-owned companies. For more information, visit PPCPartners.com.