QCOMP TECHNOLOGIES, INC ANNOUNCES NEW INSPECTION FEATURE FOR HIGH SPEED LID APPLICATOR CELL

LPSX Technology Increases Productivity of Lid Application Processes
GREENVILLE, Wisconsin- May 24, 2012, QComp Technologies, Inc., a leading robotics integrator, today announced the company's High Speed Lid Applicator Cell now features LPSX Technology, an innovative inspection feature designed to increase productivity of customer's lid application process. The LPSX feature allows an operator to inspect the glue pattern on lids during production runs without interrupting the production process.
"At QComp our engineers are continually looking for methods to enhance and improve our customer's efficiencies," said Tom Doyle, president of QComp Technologies, Inc. "With the new LPSX Technology operators can easily inspect glue pattern during normal operation and perform non-destructive quality checks at any time without having to interrupt production."
The operator activates the system by simply pushing the Quality Inspect (or Glue Test) button which prompts the robot to pick the lid and apply glue, then places it on the LPSX system for safe inspection outside the robot guarding. Once the lids are removed and disposed of, the LPSX system can be returned to its normal operating position.
QComp's High Speed Lid Applicator Cell provides the highest possible throughput rates and the most accurate lid placement in the industry. The pre-engineered cells apply lids to flexible pouches based on customers' requirements. QComp offers single robot cells with pick rates up to 135 picks per minute, and dual robot cells with rates up to 270 lids per minute.
For more information QComp will be exhibiting at the World of Wipes (WOW) show sponsored by the INDA Association for the Nonwoven Fabrics Industry in Chicago, Illinois. The event takes place at the Hotel InterContinental June 5-7. More information can also be found on their website at www.qcomptech.com.
Founded in 1990, QComp Technologies, Inc. is a robotics integrator, providing automation solutions for a variety of industries. The company designs and builds automated robotic manufacturing cells and materials handling systems, as well as engineers and manufactures drive systems for paper, metal and converting industries. With headquarters in Greenville Wisconsin QComp has sales and service offices in Wausau and Milwaukee, WI.
QComp and the QComp logo are trademarks of QComp Technologies, Inc. All trade names are either trademarks or registered trademarks of their respective holders.
QComp Technologies, Inc.
W6564 Quality Dr.
Greenville, WI 54942
920.757.0775
info@qcomptech.com
QComp Technologies, Inc.
Contact Information: val@curetoncommunications.com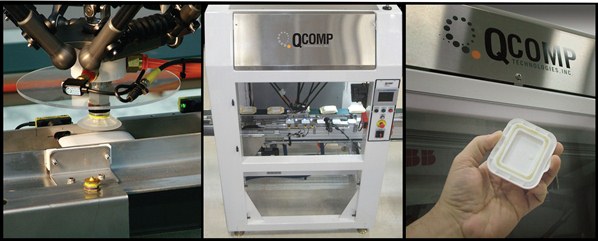 Contact Information
Email:
val@curetoncommunications.com
URL:
http://www.qcomptech.com/
Phone:
920.757.0775
Company:
QComp Technologies, Inc.