Sandler AG at INDEX 2017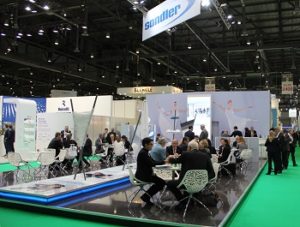 Successful participation in Europe's largest trade show for nonwovens
08.05.2017 – For 30 years Sandler AG has been an innovative partner of the hygiene industry. The nonwovens manufacturer celebrated this anniversary with a special booth design at this year's INDEX—Europe's largest trade show for nonwovens—in Geneva. The professional audience from all parts of the world engaged in discussions on new developments and the latest trends in the hygiene industry with the Sandler team.
A catwalk of nonwoven innovations literally took centre stage and a multi-media screen showcasing the company's new image trailer bridged the gap between people and technology: Sandler showcased products that literally touch people closely, are designed to fulfil varying requirements and support individual lifestyles. Products for people, by people. In this sense, the partnership as well as the identification with the textile product solutions was also illustrated by photographs of Sandler staff members integrated into the catwalk design.
During the four-day fair, the Sandler catwalk saw a strong turnout of visitors from all over the world. The Sandler team from sales, product development and purchasing used the opportunity to meet with longstanding customers from the hygiene and wipes industry as well as other sectors; suppliers, and other partners. Current projects, latest Sandler innovations, trends, and developments in the market were the subjects of these talks. The exceptional booth design stood out from its surroundings. It drew the attention of potential new clients and brought Sandler AG numerous interesting new contacts.
True to the INDEX show's major focus, nonwovens for babycare and feminine care were the most sought after items at the booth. Applied in various components of complex hygiene products, the textile all-rounders help increase comfort through high softness and further discretion in use through optimum functionality:
Nonwovens for elastic applications in closure systems facilitate optimum fit and adaptation to every movement. Sandler presented a collection of extensible nonwovens for visitors to choose the ideal nonwoven for their respective use. New developments for topsheets won visitors over with even higher softness and support fluid management with functional surface structuring. The new "canyon" structure, for example, makes the nonwoven even bulkier, while also increasing stability. It forms a sort of grooves on the surface for optimised fluid transport. New nonwoven distribution layers quickly transport the fluid away from the body and prevent rewet, for increased comfort and a sense of safety during use.
Sandler also showcased a wide range of wipes substrates for babycare, cosmetics, cleaning, and disinfection. They unite high tensile strength with high softness for gentle care. Special product variants feature a particularly silky touch, rendering daily skin care into a veritable wellness treatment.
Apart from functionality and feel, visual differentiation is also a focus in wipes manufacturing. New Sandler designs unite appealing appearance with optimised function. The new embossed design "square" for cleaning applications makes wipes even bulkier and enlarges the surface for even more efficient cleaning. New coloured substrates facilitate easy distinction between different applications.
Special fibre blends used in Sandler wipes substrates allow for excellent functionality at reduced basis weights, thus helping to conserve resources.
Novelties for technical applications were also in high demand with the audience. Among them, the latest synthetic Sandler HVAC filter medium enAIRsave®, which unites excellent filtration performance and energy efficiency. The new sawasorb® advanced absorber nonwovens for the transportation industry reliably dampen engine and driving noise. At a product thickness of 6 mm, for example, they meet acoustic requirements designed to be met by absorbers of about 15 mm thickness. An ideal solution for narrow installation spaces.
During the same week, Sandler also participated in the 2017 Filtrex conference and exhibition, which took place in a neighbouring exhibition hall and was open to all INDEX visitors as well. At this specialist conference, one of Sandler's R&D experts discussed the new enAIRsave® filter medium during a lecture. This innovation drew visitors to the company's tabletop booth, where they learned more about the Sandler product range for the filtration industry and other innovations for this sector.
To sum it up, Sandler reports a very successful participation in this most important European trade fair for hygiene products—emphasizing the fascination with nonwovens and customised product solutions.