Techmer PM Takes Home a Prestigious R&D 100 Award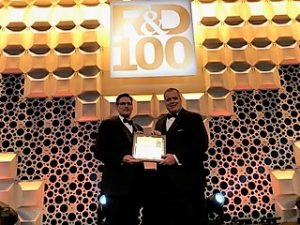 Materials Design Breakthrough Advances Capabilities of Large-Part Additive Manufacturing
CLINTON, Tenn., November 20, 2017 – R&D Magazine recently honored Techmer PM for its innovative materials design work by naming it a winner in the Process/Prototyping category for the 2017 R&D 100 Awards program.
Each year, R&D Magazine recognizes the most outstanding technology developments with promising commercial potential. The coveted awards – now in their 55th year – are presented annually in recognition of exceptional new products, processes, materials or software that were developed throughout the world and introduced to the market the previous year.
Techmer PM earned the honor for its work collaborating with Oak Ridge National Laboratory and BASF to design two new, 3D-printable, engineering thermoplastic compounds – Electrafil® PPS 3DP and Electrafil® PPSU 3DP. Known jointly as TEAMM (for TechmerPM Engineered Additive Manufacturing Materials), these compounds were developed specifically for high-temperature autoclave tooling applications used in composite part production.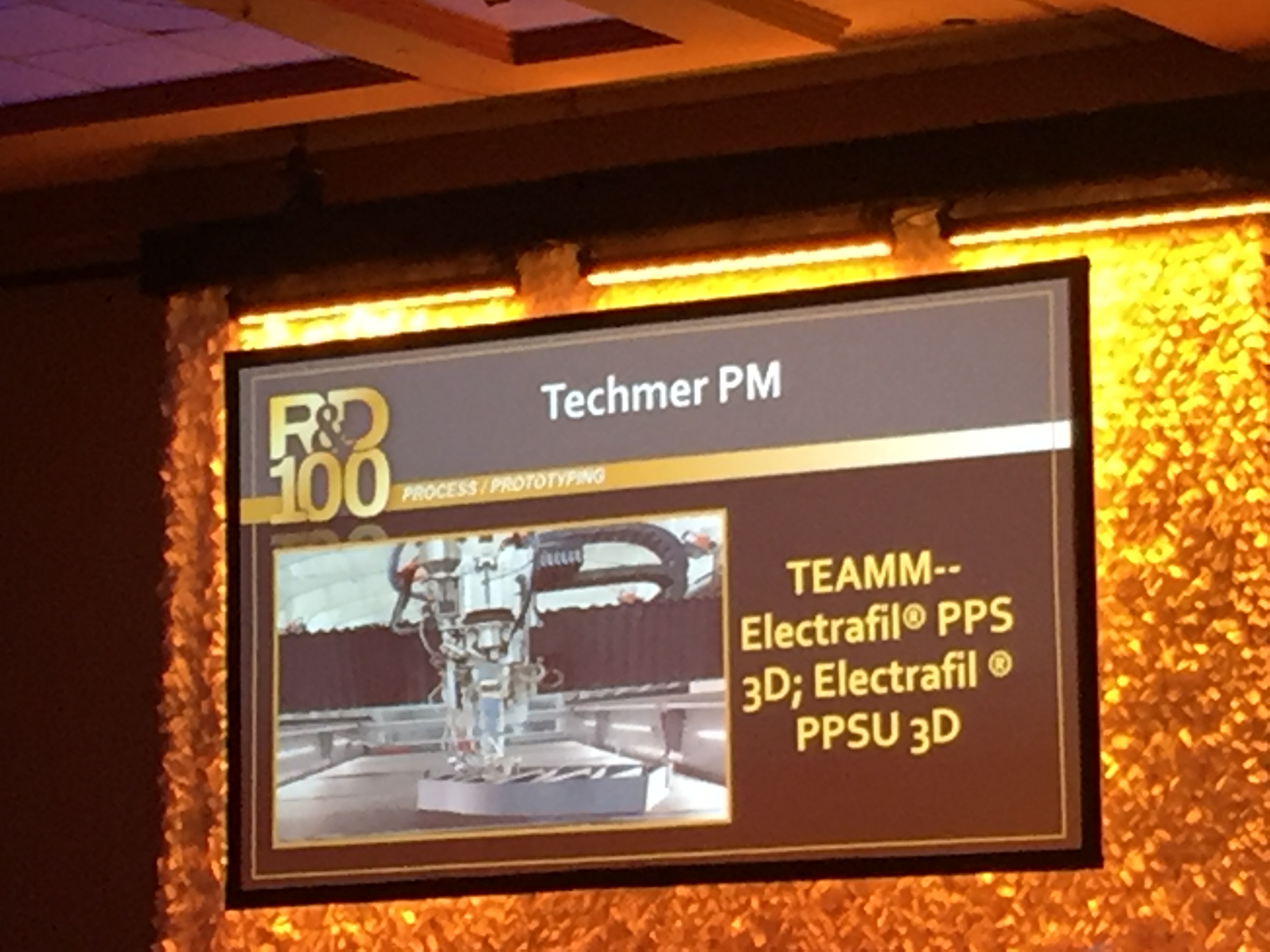 Tom Drye, the Clinton-based firm's vice president for emerging markets and innovation, and Alan Franc, product development manager, were on hand to accept the award at a black-tie ceremony Nov. 17 at the Walt Disney World Swan Resort in Orlando, Fla.
The highly engineered, carbon fiber-reinforced compounds come in pellet form for use in new, pellet-fed 3D printers. They have proved their versatility by being successfully tested on two large-format additive manufacturing systems – Cincinnati Inc.'s Big Area Additive Manufacturing (BAAM) system and Thermwood Corp.'s Large-Scale Additive Manufacturing (LSAM) system.
These advanced materials offer a new methodology for autoclave-capable tooling production, which allows for rapid design changes and iterative optimization trials at a fraction of the cost and time of alternative processes. The materials, for example, have been shown to slash the cost and lead time for manufacturing large-scale aerospace autoclave tooling by 90 percent compared to existing technology that uses expensive, machined metal molds and tools. TEAMM also removes a major barrier to the application of high-performance composites, which typically have lacked in temperature range and process ability.
Both Electrafil® PPS 3DP and Electrafil® PPSU 3DP are optimized to withstand a 350 °F, 100 psi autoclave cycle with minimal dimensional changes (CTE) through the cure cycle of the printed tools and parts. The composition and rheology of each have been developed for deposition rates exceeding 50 pounds/hour through a 1-inch extruder. Additionally, the compounds are designed to tolerate process changes during long build times and extended residence times.
The materials also are fully recyclable. This is key, since the resulting, large-scale molded parts – which can exceed 900 pounds each – often go through several iterations.
"These innovative compounds have enabled the transition of additive manufacturing from prototyping demonstrations to demanding industrial, aerospace, automotive and military applications," said Drye. "This is a game changer in that it drastically cuts the expense and time associated with traditional metal tools."
Finalists for this year's awards were selected by an independent panel of more than 50 judges representing R&D leaders in a variety of fields. The ceremony in Orlando was held in conjunction with the third annual R&D 100 Conference, which took place Nov. 16-17.
"The R&D 100 Awards have long been considered the most globally prestigious recognition of invention and innovation, honoring great R&D pioneers and their revolutionary ideas in science and technology," noted Techmer PM Chairman and Chief Executive Officer John Manuck. "It is an honor to be included as one of the newest members of the elite R&D 100 Awards community along with our collaborative partners, Oak Ridge National Laboratory and BASF."
These prestigious awards recognized 100 of the top innovations across five categories: Analytical/Test, IT/Electrical, Mechanical Devices/Materials, Process/Prototyping, and Software/Services. For the third year, the R&D 100 Awards Committee also honored excellence with four Special Recognition Awards: Market Disruptor Services, Market Disruptor Products, Corporate Social Responsibility, and Green Tech.
A complete list of the 2017 R&D 100 Awards Finalists can be found here.
About the R&D 100 Awards
Since 1963, the R&D 100 Awardsprogram, an integral part of the R&D Magazine brand, identifies and celebrates the top 100 revolutionary technologies of the past year. Past winners have included sophisticated testing equipment, innovative new materials, disruptive chemistry breakthroughs, new biomedical products, breakthrough consumer products, and new technologies spanning industry, academia and government.
About Techmer PM
Techmer PM is a leading materials design company that works in partnership with plastics processors, OEMs and designers to solve some of their most difficult business, manufacturing and sustainability challenges. The company's solutions modify the aesthetics as well as extend and maintain the physical properties of plastic products. The company designs custom solutions for customers to maximize performance through collaboration and by leveraging its leading edge technology. Plastics News has recognized Techmer PM as one of the industry's "Best Places to Work" in 2014, 2016 and again in 2017. Learn more by visiting techmerpm.com.