Technical packaging textiles with 35% less CO2 emissions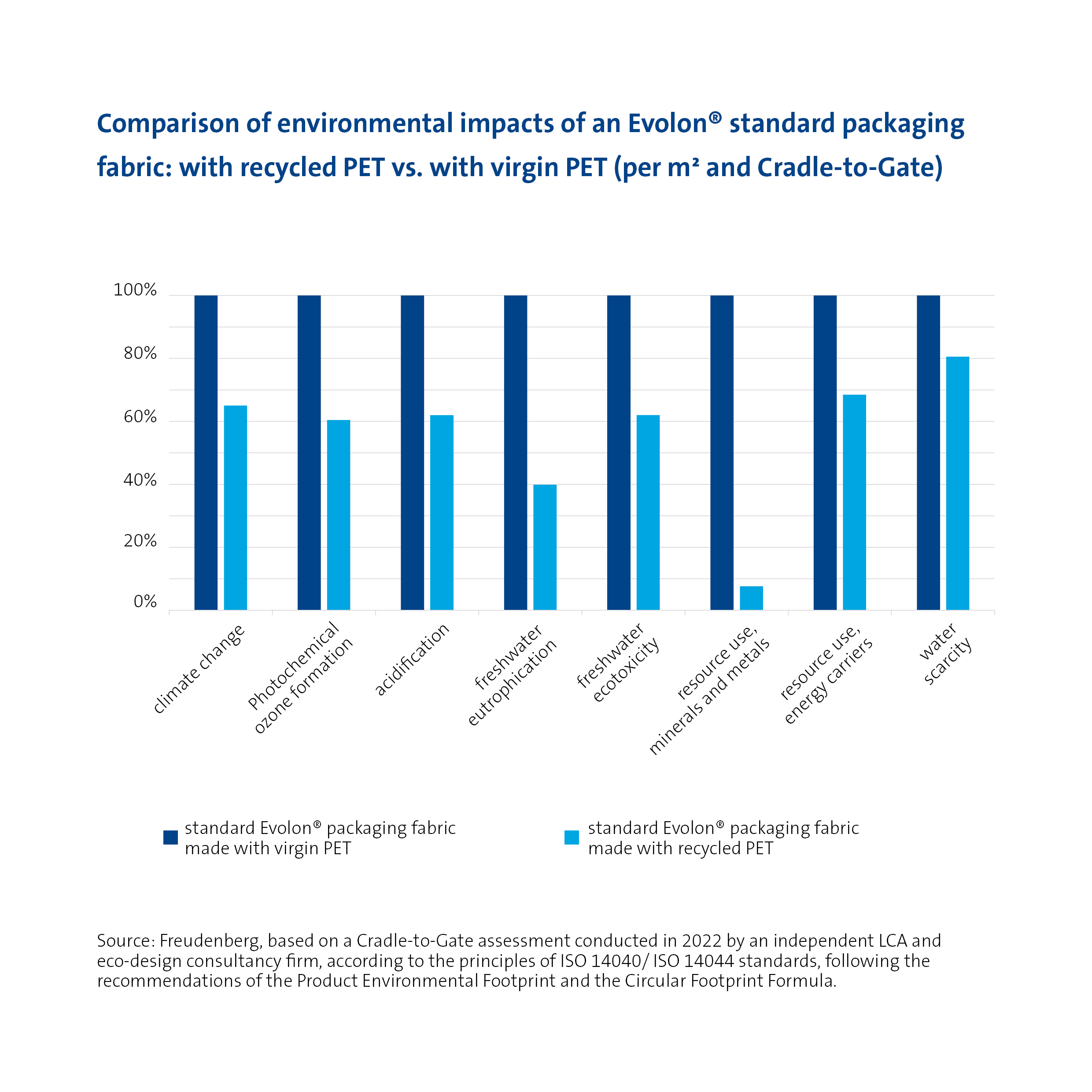 Weinheim, Germany, January 10th, 2023. By using a high share of recycled content in its Evolon® materials, Freudenberg Performance Materials (Freudenberg) offers technical packaging textiles with a carbon footprint decreased by 35%. An independent LCA study showed additional benefits such as energy resource savings and lower water use. Furthermore, Evolon® fabrics provide sustainability benefits over the packaging entire life cycle thanks to high end performance and durability.
By replacing virgin PET with recycled PET, the cradle-to-gate carbon footprint of Evolon® packaging textile materials decreased by 35%. This is the result of a study by an independent LCA and eco-design consultancy firm, which made a Cradle-to-Gate assessment of several Evolon® products using virgin PET or recycled PET. The study was finalized in 2022 and conducted according to the principles of ISO 14040/ ISO 14044 standards, following the recommendations of the Product Environmental Footprint and the Circular Footprint Formula.
The study highlighted additional significant benefits on other criteria such as lower water use, reduced emissions into water, lower ozone formation, as well as important savings of minerals, metals and energy carrier resources. Last but not least, Freudenberg has identified the highest priority areas of work to decrease the material's CO2 emissions further on.
Sustainability over the entire packaging life cycle
Evolon® microfilament textiles have a small carbon footprint because their manufacturing process uses low CO2 energy sources. The fabrics are lightweight and can be reused throughout entire production programs, e.g. of a car model when it is about the automotive industry. Furthermore, the new Evolon® RE fabrics contain up to 85% of recycled PET which is produced in-house out of post-consumer PET bottles.
Evolon® textiles are suitable for reusable technical packaging, which eliminate the use of thousands of disposable packaging materials. Evolon® fabrics offer scratch-free, lint-free, high-end surface protection for molded plastic parts, painted parts and other sensitive industrial and automotive parts during transport. This contributes to lower the scrap rate of parts and provide both financial and ecological benefits. By using Evolon® reusable packaging to transport highly-sensitive parts, customers can increase their efficiency and save resources.
About Freudenberg Performance Materials
Freudenberg Performance Materials is a leading global supplier of innovative technical textiles for a broad range of markets and applications such as apparel, automotive, building interiors, building materials, healthcare, energy, filter media, shoe and leather goods as well as specialties. In 2021, the company generated sales of more than €1.3 billion, had 33 production sites in 14 countries around the world and had some 5.000 employees. Freudenberg Performance Materials attaches great importance to social and ecological responsibility as the basis for its business success. For more information, please visit www.freudenberg-pm.com
The company is a Business Group of Freudenberg Group. In 2021, the Freudenberg Group employed some 50,000 people in around 60 countries worldwide and generated sales of more than €10 billion. For more information, please visit www.freudenberg.com.