Thrace LINQ Completes Expansion Project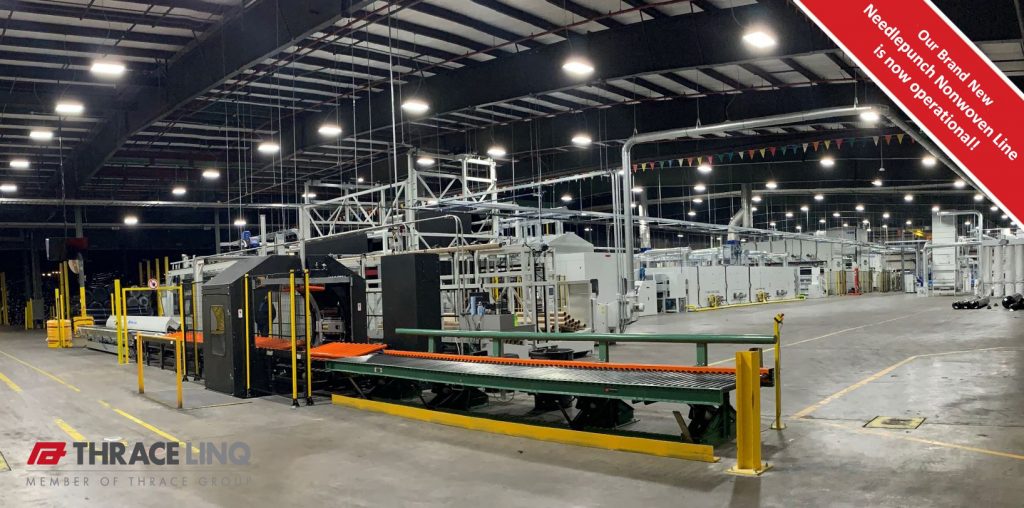 SUMMERVILLE, SC—02.07.2019— Thrace LINQ is pleased to announce the completion of the installation of a new Andritz® needlepunch nonwoven line. The Thrace Group invested more than $9 million in this project to satisfy the growing demand for its high performance nonwoven fabrics in North America.
This state of the art needlepunch nonwoven line was designed to produce world-class quality fabrics for geosynthetics, automotive, and floor covering markets. An in-line tenter oven and calender, along with finished width capability beyond 20-feet are just a few of the features this equipment offers. "We are very proud of this cutting edge production line, and are excited to continue our growth here in Summerville" said Brian Sparks, General Manager of Thrace LINQ. "This enhancement of capability and capacity will strengthen our competitive position and help us better serve our customers."
About Thrace LINQ™: Commencing operations in May 2007, Thrace Linq is a supplier of woven and nonwoven technical fabrics for a wide variety of textile applications in the Americas. Its corporate office and United States manufacturing and distribution center is located in Summerville, South Carolina. Thrace Linq is a member of Thrace Group, one of the top producers of Technical Fabrics and Packaging solutions in the world. For more information please visit www.thracelinq.com.
About Thrace Group: Thrace Group operates companies in 10 countries, specializing in the production and trade of PP, PET & PE products. The activity of the Group is divided into two Business Units: Technical Fabrics and Packaging (Consumer and Industrial). The Group operates 14 plants with 28 different production technologies in 5 countries (Greece, Scotland, Bulgaria, Romania and U.S.A.) and has Trading Companies in 6 countries (Ireland, Norway, Sweden, Serbia, China and Australia). With a 30-year long experience and know-how in the market, Thrace Group serves a sales network of 80 countries worldwide (Europe, N. America, Asia, Australia) manufacturing 110,000 tones of polymers annually and employing 2,100 professionals in total. For more information please visit www.thracegroup.com.