Truetzschler Nonwovens Integrates Bastian Winder Technology

TRUETZSCHLER NONWOVENS, the leading provider of complete solutions for web and chemical fibre plants, completes its product portfolio by taking over the product range of Bastian Winder Technologies GmbH & Co. KG. This enables TRUETZSCHLER NONWOVENS to offer complete nonwoven plants from staple fiber spinning to winding from a single source in future.
"The technologically outstanding products of Bastian supplement our product programme so that we can now offer the customer a perfect solution down to the winder. The customer no longer has to worry about interfaces, but will receive a perfectly aligned solution," says Marc Wolpers, managing director of Truetzschler Nonwovens.
Under the name of BASTIAN, TRUETZSCHLER NONWOVENS will in future offer winders for nonwovens, film, paper and composites.
Use of the perfect winder and selection of the correct slitting system ensure the quality and productivity of the plant and therefore success of the final product.
Based on many years of experience and industry-specific know-how, the BASTIAN experts can now evaluate exactly what is technologically possible end economically convincing in combination with the expertise of TRUETZSCHLER NONWOVENS.
"We are happy that the experienced BASTIAN employees continue to be available to our customers," continues Wolpers.
TRUETZSCHLER NONWOVENS offers leading technologies for the producers of nonwovens and technical textiles around the world.
The product range covers the entire staple fibre preparation and web formation with roller cards or aerodynamic web-forming devices. Erko crosslappers and Erko web drafters enable production of the required web weights and working widths. The TRUETZSCHLER NONWOVENS experts have the right solution for any application, including needling, hydro-entanglement with Fleissner Aquajet and Fleissner dryer, chemical or thermal bonding techniques. Different web equipment options and systems for production of hygiene articles complete the product range.
In the product range Fleissner Man-Made Fiber, TRUETZSCHLER NONWOVENS deliver plants and equipment for production of staple fibres that are used in textile and nonwoven products. Furthermore, TRUETZSCHLER NONWOVENS delivers complete plants for production of carbon fibres in cooperation with partners.
Added to this is a very customer-oriented service around the world, provided by the production branches of Truetzschler group in China, India, Brazil and the US, as well as at the service sites in Turkey, Uzbekistan, Mexico, Italy and Spain.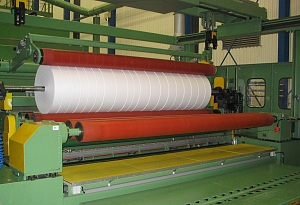 Contact Information
Email: marc.wolpers@truetzschler.de
Phone: Tel.: +49 (0) 6103-401-0, Fax: +49 (0) 6103-401-440
Company: Truetzschler Nonwovens