TSG Expands DEFEND® DWR to serve the Nonwovens Industry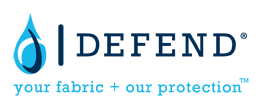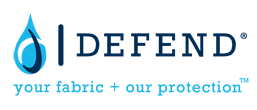 Devon, Pennsylvania, July 17, 2019. TSG Finishing, LLC with operating plants in Hickory and Conover, NC is happy to announce the expansion of its DEFEND® brand of high-performance finishing products to its wide-width nonwovens coating and converting business.
"In less than 2 years DEFEND® has become the standard-bearer for high-performance finishing in the residential and contract upholstery markets," states Michael Goldman, President and 5th Generation owner of TSG. "Using the DEFEND® platform, we are now able to deliver the same level of customization and performance to the nonwovens market."
TSG has long been in industry leader in high-speed, wide-width finishing, servicing many markets including healthcare, construction, automotive and filtration. TSG's capabilities include both low- and high-viscosity coating to 156" (3,962mm), precision slitting and rewinding to 172" (4,368mm) and high-speed tentering for heatsetting applications. "The brilliance of DEFEND® is our ability to bolt-on additional capabilities to the DWR backbone, including anti-abrasion, anti-microbial, anti-static and FR," Goldman continued. "Providing custom solutions to solve our customers' needs has always been our bread and butter. DEFEND® just gives us another tool in the shed."
Current Capabilities offered by TSG Finishing:

Coating & Tentering (Extending to 156 Inches)

Slitting & Rewinding (Extending to 172 Inches)

Low-Viscosity Coatings (Dips)

High-Viscosity Coatings (Backing or Face-Coatings)

Ability to Handle Difficult Materials such as Kevlar and Fiber Glass

Custom Compound of our Chemistry
TSG Finishing currently has 3 finishing plants in Hickory and Conover, North Carolina that are dedicated to the enhancement of textile products. Executive offices are located in Devon, PA.
More information available at sales@tsgfinishing.com
Contact Information
Email:
sales@tsgfinishing.com
URL:
www.tsgfinishing.com
Phone:
215.628.2000
Company:
TSG Finishing