Wiley Bros.-Aintree Capital, LLC Is Pleased to Announce that Leonard LaPorta Has Joined the Firm.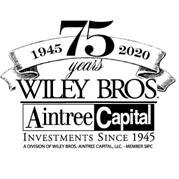 NASHVILLE, Tenn. January 27, 2023–Mr. LaPorta has joined the Investment Banking practice at Wiley Bros.-Aintree Capital, LLC, a 78 year-old firm located in Nashville, TN. His primary focus is on mergers and acquisitions (M&A). Mr. LaPorta will work from the Firm's branch office in Greenwich, CT.
Mr. LaPorta has over 30 years of aggregate operational and financial business experience, including 20 years in various disciplines within the manufacturing, industrials, industrial technology and highly engineered product sectors aerospace component manufacturing, automotive, agricultural automation and building products.
Prior to becoming an M&A banker, Mr. LaPorta was the owner-operator of a precision contract manufacturer focused on medical device and aerospace components. His experience in selling his own firm allows Mr. LaPorta to advise family owners and their multi-generation stakeholders, both in USA and Europe, in today's complex and challenging cross-border M&A environment. Mr. LaPorta successfully completed a deal that passed a CFIUS review for national security.
He has completed transactions for numerous family-owned companies, including 1) high volume complex deep drawn and progressive die stampings, 2) stocking distributor of exotic alloys, 3) tooling for the powdered metal compaction industry, 4) manufacturer of electro-hydraulic actuators safeguarding critical municipal water systems, 5) infrastructure services company providing field services to electrical, mechanical and electronic industrial installations, water and wastewater treatment facilities, and 6) precision contract manufacturer with rubber-to-metal bonding.
Mr. LaPorta's leadership efforts involving the corporate carveout of Peter Wolters GmBH from Lam Research (Nasdaq: LRCX) earned M&A Cross Border Deal of the Year Award. Other representative clients have included Alitalia Air Maintenance Services MRO (Italy), Gutmann Aluminum Extrusion and Building Facades (Germany), BDR Thermea Group Commercial water and space heating systems (Netherlands), Lummus cotton ginning systems (Swiss/USA).
His affiliations include Precision Metalforming Association, Connecticut Tooling & Machining Association, Association of Non-woven Fabrics Industry, USS Constitution Museum.
Mr. LaPorta is a published and recurring featured M&A columnist for International Fiber Journal and International Filtration News. In addition, he has been a keynote M&A speaker at various industry events, most recently at Hygienix Conference in New Orleans. He holds an MBA from Boston College Carroll School of Business and a BS from the U.S. Naval Academy. Mr. LaPorta is a proud veteran of the US Navy and a surface warfare officer. Mr. LaPorta is FINRA series 79 and 63 licensed.