Wires, machines and nonwoven lines: Trützschler Nonwovens and partners at INDEX 2014

Basic success factors in the nonwovens industry are innovation and the resulting variety of products. Three companies – Trützschler Nonwovens & Man-Made Fibers, Trützschler Card Clothing and Voith Paper – will share booth #2331 at Geneva to present new and proven technologies for efficiently producing high-quality, differentiated nonwovens.
Trützschler Nonwovens & Man-Made Fibers presents two tailor-made, new components: the highly productive Streamliner, an air-trough dryer with highest drying performance, and the automatic surface winder BWT 203-30 which is especially designed for spunlacing lines.
The Streamliner drum dryer stands out due to its high evaporation capacity and a production speed of 400 m/min in hydroentangling lines. This dryer type ensures a substantial increase in productivity by lowering energy consumption by up to 30% at the same time. The new, spiral design features an optimal air guidance and is of particular interest in the production of spunlaced nonwovens with a high residual water content.
The product range Bastian added the new, fully automatic horizontal slide winder BWT 203-30 to the portfolio. This circumferentially driven winder is an energy-efficient, operator-friendly winding solution for spunlace lines with a reduced erection and start-up time.
Another focus of booth #2331 will be on complete production lines from fiber opening, web forming and web bonding down to winding. Voith Paper, the cooperation partner, will answer all questions about wet-laid nonwoven plants for flushable wipes and other final applications. Basically all fibers can be wet-laid on the HydroFormer, provided they are dispersible in water and do not exceed a certain length in relation to diameter. Recovery and preparation of these fibers also belong to Voith Paper's core competences.
Trützschler Card Clothing has broadened the product range of surface treated metallic wires. Wires with code "B" are now available expressly for hygienic applications for the use on cylinder, random roller and doffer. The new doffer wire NovoDoff with 450 ppsi is designed especially for hydroentangled light weight nonwovens and is most suitable for long-staple fibres, due to optimized transfer properties.
Photo: Start-up of the first Streamliner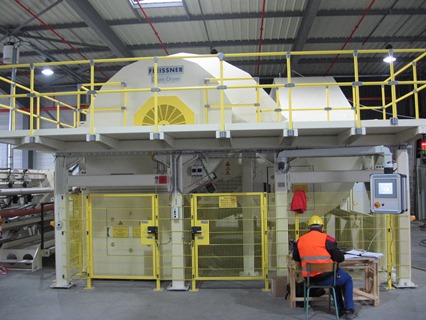 Contact Information
Email:
marc.wolpers@truetzschler.de
URL:
http://www.truetzschler.de
Phone:
Marc Wolpers, Sales Director, Tel.: +49 (0) 6103-401-0
Company:
Trützschler Nonwovens