NEW INDA Report Forecasts Excellent Global Growth for Wipes Industry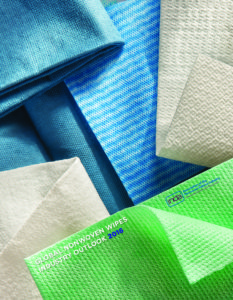 Cary, North Carolina, Dec. 15, 2016 –  A new report published by INDA, the Association of the Nonwoven Fabrics Industry, forecasts excellent growth in the global and regional nonwovens wipes markets through the next four years.
According to the Global Nonwoven Wipes Industry Outlook, 2016, the wipes market is one of the fastest growing and most-dynamic nonwoven sectors. INDA is responding to the business need for a single global segmented wipes report intended for decision makers involved in the nonwovens wipes industry supply chain, from raw material and machinery suppliers to converters, and brand owners to investors.
The in-depth report provides a view of the production data for nonwoven wipes for each major region of the world including: North America, Greater Europe, Asia, South America, Middle East and North Africa, and the rest of the world.  In addition, the report provides a regional view across 31 nonwoven wipes segments within North America and six segments within the South American region.
Among the highlights of the report:
Global nonwoven wipes markets rank second in tonnage, accounting for 13 percent of all nonwovens produced, and is the second-fastest growing end use after transportation.
In North America, wipes are the second largest end-use category accounting for 14 percent of the nonwoven fabric consumed.
In South America, wipes accounted for 2 percent of the production in 2015, with baby wipes leading growth for the overall wipes category.
"This report is a 'must have' for business planners in — or thinking of getting into — the nonwoven wipes industry. This comprehensive report consolidates into a single document the wipes industry data from three of our overall nonwoven industry reports.  This consolidation puts in one place the best sector data available to enhance decision making in this growing area," said Dave Rousse, INDA President.
INDA's report is based upon primary research, secondary research, economic data and INDA's internal databases. Dozens of extensive interviews and surveys were conducted within a wide range of industry participants including suppliers, producers, converters, and brand owners throughout the supply chain. INDA compiled the wipes data from three INDA triennial reports:
North American Nonwovens Industry Outlook, 2013–2018
Worldwide Outlook for the Nonwovens Industry, 2014–2020
South American Nonwovens Industry Outlook, 2015-2020
The 137-page report is available for purchase from INDA at www.inda.org and includes an executive summary, a listing of 62 figures, and 20 tables. The cost is $2,500 for INDA members and $3,250 for nonmembers.
Purchasers of INDA's Global Nonwovens Wipes Industry Report will receive an updated Wipes section from the North American Nonwovens Industry Outlook, 2016-2012, to be published in the third quarter of 2017.
About INDA
INDA, the Association of the Nonwoven Fabrics Industry, serves hundreds of member companies in the nonwovens/engineered fabrics industry in global commerce. Since 1968, INDA networking events have helped members connect, innovate, and develop their businesses. INDA educational courses, market data, test methods, consultancy, and issue advocacy help members succeed by providing them the information they need to better plan and execute their business strategies. For more information, visit www.inda.org, or download the INDA app for immediate updates.
###