Nominate Your Innovation for the Prestigious Hygienix Innovation Award™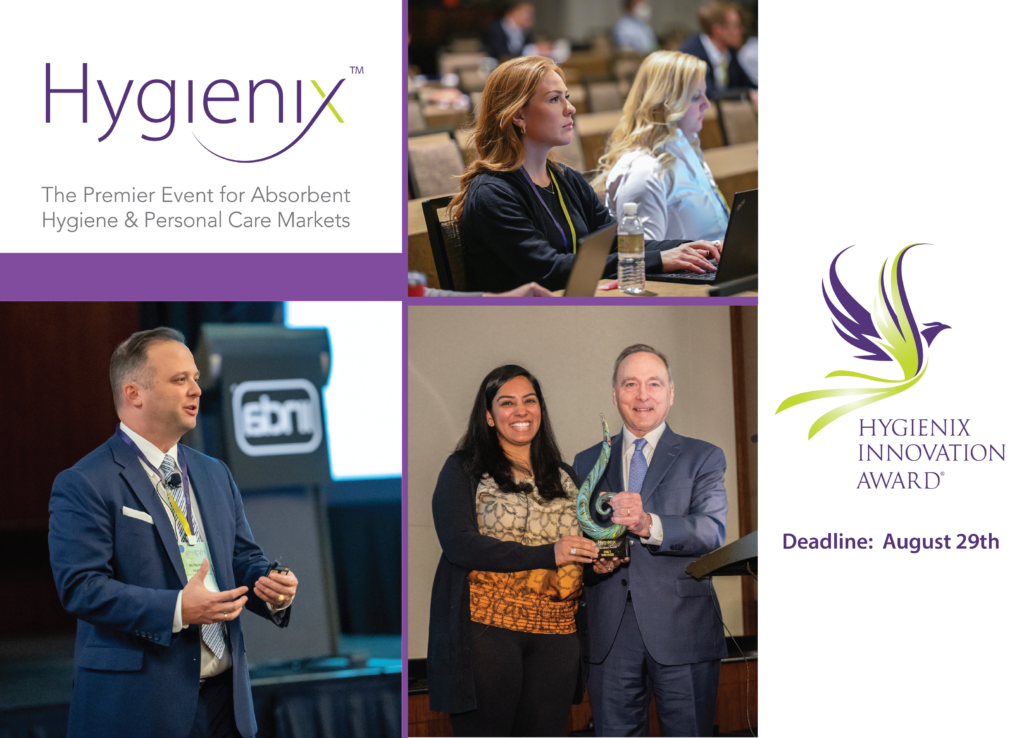 Gain Global Recognition for Your New Absorbent Hygiene Innovations  
Cary, NC, July 19, 2022 – INDA, the Association of the Nonwoven Fabrics Industry, announces online nominations are now open for the prestigious Hygienix Innovation Award™. The Award recognizes a new product or technology innovation in the absorbent hygiene and personal care sector that uses nonwoven fabrics in novel, technically sophisticated, uniquely creative and expansive ways. The Award will be presented at Hygienix™ 2022, Nov. 14-17 at The Roosevelt New Orleans Hotel, in New Orleans, LA.
Nominations will be accepted online through Monday, Aug. 29 at www.inda.org/awards/hygienix-innovation-award.html   Nominees will be selected from a broad range of new products or technologies that have been commercially available at most two years prior to Hygienix™ 2022. Nominees can include end product components, fabrication techniques, or products that use a nonwoven technology in manufacturing. Award categories include feminine care products, diapers, incontinence products, raw materials, equipment technology, reusable products or technologies, and composites or laminates that use nonwovens. Three finalists will present their innovations to over 450 participants at the eighth edition of Hygienix™, the premier event for the absorbent hygiene and personal care markets. The winner will be announced Thursday, Nov. 17.

Last year's Hygienix Innovation Award™ was presented to Kudos for their Kudos Diaper Subscription Box, a disposable diaper featuring 100 percent breathable cotton touching baby's skin.
The 2021 event in Scottsdale, AZ attracted over 360 industry professionals to convene and connect with the latest innovations and trends in the largest of the nonwovens segment—absorbent hygiene and personal care. Participants benefited from forward thinking market and business insights as well as face-to-face engagement with 14+ hours of networking events.
The Hygienix™ 2022 Conference will explore exclusive content in these key areas: Market and Innovation Development, Sustainable Absorbent Hygiene Inputs and Products, Menstrual Product Innovation, Consumer Understanding, and Machinery.
The event will also feature a new Mentorship Program where first-time participants convene and connect with elite decision makers; two workshops, Global Diaper Trends and Absorption Systems for Absorbent Hygiene Products: A hands-on look at absorbent hygiene cores; networking opportunities to connect with fellow participants; and tabletop exhibits with two evening receptions. For information on the Hygienix Innovation Award™ nomination, contact Chris Plotz, cplotz@inda.org, 919-459-3748.
For registration and tabletop exhibit information on Hygienix™ 2022, visit www.hygienix.org/register.html  
About INDA
INDA, the Association of the Nonwoven Fabrics Industry, serves hundreds of member companies in the nonwovens/engineered fabrics industry to achieve business growth. Since 1968, INDA helps members convene and connect, innovate and develop their businesses. INDA's educational courses, business intelligence and market insights, test methods, consultancy and issue advocacy help members succeed by providing information they need to better plan and execute their business strategies. INDA Media is the business-to-business publishing arm of INDA and publisher of International Fiber Journal and International Filtration News, which reach a vast network of professionals who employ fibers, filaments, and filtration systems to optimize their application environments. For more information, visit www.inda.org. For more information, visit inda.org or call 919-459-3700.
###