Outlook™ Plus Latinoamérica 2017 anuncia su programa final: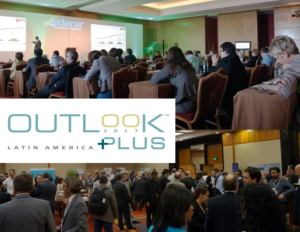 Se reúnen los expertos de la Industria de No Tejidos, Cuidado Personal y Médica. San Pablo, Brasil, 7 a 9 de marzo
Cary, Carolina del Norte, EE.UU. y Bruselas, Bélgica– 1 de febrero de 2017 – Las dos asociaciones de comercio global de no tejidos, EDANA e INDA, anuncian la publicación conjunta del programa final de OUTLOOK ™ Plus Latinoamérica 2017 en sus respectivos sitios web.
La segunda edición de una única conferencia de establecimiento de redes y exhibición que durará tres días examinará los últimos desarrollos en Latinoamérica en la industria de no tejidos para el cuidado personal, higiene absorbente y no tejidos médicos.
Los primeros dos días de la conferencia y la exhibición de pantallas de mesa, el 7 y 8 de marzo, ofrecen un resumen sucinto de los mercados de no tejidos, mercados y tecnologías de higiene absorbente y mercados de higiene descartable en Latinoamérica. El tercer día, 9 de marzo, cierra el evento enfocándose sobre el creciente mercado latinoamericano de toallas descartables, no tejidos en la atención de la salud y prevención de infecciones y perspectivas sobre tecnologías de adaptación.
El presentador principal, Dr. Welber Barral, Director de la Coalición de Industrias Brasileñas y ex Secretario de Comercio Exterior de Brasil, dirige la conferencia con una presentación sobre las ventajas y obstáculos para dirigir empresas en Brasil, y comparte su incisiva visión sobre el cambiante entorno político de Brasil y su impacto sobre el crecimiento y el atractivo para las inversiones.
El programa incluye presentaciones de los siguientes líderes globales y regionales:
J. Rosa, Retail Exec., AC Nielsen
"Private Label in Brazilian Retail Markets"
D. Guerrero, Pres., S. America – Health, Hygiene, & Spec., Div., Berry Plastics
"Latin American Nonwoven Market"
V. Radde, Sales Dir. – Latin America, Fitesa
"The Latin American Nonwovens Market Perspective"
E. Morimitsu, Research Anylst., Euromonitor International, São Paulo
"Global Absorbent Hygiene Markets & Female Consumers"
R. Jezzi, Prin., A.D. Jezzi & Associates
"Airlaid Pulp Nonwovens Technology"
P. Santos, Prod., & Quality, Klabin
"Latin American Market Fluff Pulp Innovation"
T. Arys, Vistamaxx Americas Market Dev., ExxonMobil Chemical Company
"Elastic Polymers in Hygiene Applications"
F. Rangel, R&D Ass. Dir., Johnson & Johnson Consumer Products (Brazil)
"Latin America Feminine Care"
R. Martins, Innov. & Tech., S. America & Quality, Brazil, Freudenberg Performance
"Diaper Acquisition Distribution Layer Trends"
S. Smith, Ph.D., Res. Fellow – Innov. Mgmt., Evonik Corporation
"Breaking Superabsorbent Polymer Performance Barriers"
W. Spinardi, Jr., Mng. Partner, MW Innovations Consultancy
"Latin America Trends: Sensorial & Visual Aesthetics in Feminine Pads"
A. Corrêra, New Bus. Exec., Mgr., Suzano Pulp & Paper
"Eucalyptus Fiber in Hygiene & Personal Care"
R. Godoi, Bus. Mgr. Latin America, Tredegar Film Products
"Latin America Adult Incontinence Market"
V. Jain, V.P., Tech. & Innovation, Clopay
"South American Breathable Premium Diapers"
V. Arruda, Mrktg. Mgr. – Consumer Care, Lonza, Inc.
"Global Trends: Skin Care & Evolving Facial Wipe Market"
E. Levy, Sr., VP. Convenience, Suominen
"Wipes: In the Future Latin America"
B. Heinken, Mgr. Cust. Support SAI, Schülke & Mayr GmbH
"Preservation Concepts for Wet Wipe Formulas"
V. Santos, PhD, MSN, RN, CWOCN (TiSOBEST), Assoc. Prof., School of Nursing,
Univ. of São Paulo (EE-USP)
"Nonwoven Products in Brazil Wound & Continence Care"
M. Johansson, Single Use Drapes & Gowns – Business Unit Mgr., Lifemed
"Breaking Barriers of SAP Performance"
E. Cragnolino, Owner, Compagnie De La Sante
"Mfg. Practices: Healthcare Needs & Services in a Growing Economy"
K. Beckman, Dir. of Tech. Global Hygiene, H.B. Fuller Company
"Next Generation of Adult Incontinence Consumer Needs & Solutions"
"Esta segunda edición de la Conferencia OUTLOOK™ Plus Latinoamérica destaca las oportunidades y posibilidades de crecimiento en toda la industria de no tejidos en Latinoamérica, especialmente en las industrias del cuidado personal, higiene y productos médicos. Al organizar esta conferencia, nos interesa destacar no solo el potencial, sino también la resiliencia de los mercados latinoamericanos de no tejidos, los cuales destacan las oportunidades más allá de Brasil, el líder regional del mercado tradicional, hacia una cadena de abastecimiento de no tejidos más amplia", indicó Pierre Wiertz, Gerente General de EDANA.
"Este es un evento imperdible para todos los que se relacionan con el mercado creciente de productos para la higiene y el cuidado personal en Latinoamérica", dijo Dave Rousse, Presidente de INDA. "Con lo aprendido en nuestro exitoso evento de 2015, este encuentro de profesionales de la industria discutirá los elementos clave para el éxito en estos mercados."
Para obtener la información completa con el programa y los destacados de la presentación, la conferencia y las reservas de hotel, visite: www.inda.org y www.edana.org.
###
Sobre EDANA
EDANA presta sus servicios a más de 240 empresas de la industria de los no tejidos y productos relacionados en 36 países, ayudando a sus miembros a diseñar su futuro. La misión de la asociación consiste en crear las bases para un crecimiento sustentable de las industrias de los no tejidos y productos relacionados mediante la promoción activa, la educación y el diálogo. Puede encontrar información sobre servicios y próximos eventos en www.edana.org.
Sobre INDA
INDA, la Asociación de la Industria de No Tejidos, presta servicios de comercio global a cientos de empresas asociadas dentro de la industria de productos no tejidos o telas de ingeniería. Desde 1968, los eventos de INDA ayudan a sus miembros a conectarse, aprender, innovar y desarrollar sus negocios. Los cursos educativos de INDA, así como sus datos de mercado, métodos de testeo, asesoría e intercesión ante diferentes problemáticas ayudan a sus miembros para que triunfen brindándoles la información que necesitan para mejorar su planificación y poner en práctica sus estrategias comerciales. Por más información, visite inda.org o llame al 919-459-3700.
###
Para solicitar más información, comuníquese con:
Joan Izzo, Direc. de Marketing
INDA
Teléfono: +1 919 459 3717
Correo electrónico: JIzzo@inda.org
Delphine Rens, Gte. de Marketing & Eventos
EDANA
Teléfono: +32 2 740 18 22
Correo electrónico: delphine.rens@edana.org