Problem Solvers Present at RISE®: Three Finalists Compete for RISE Innovation Award!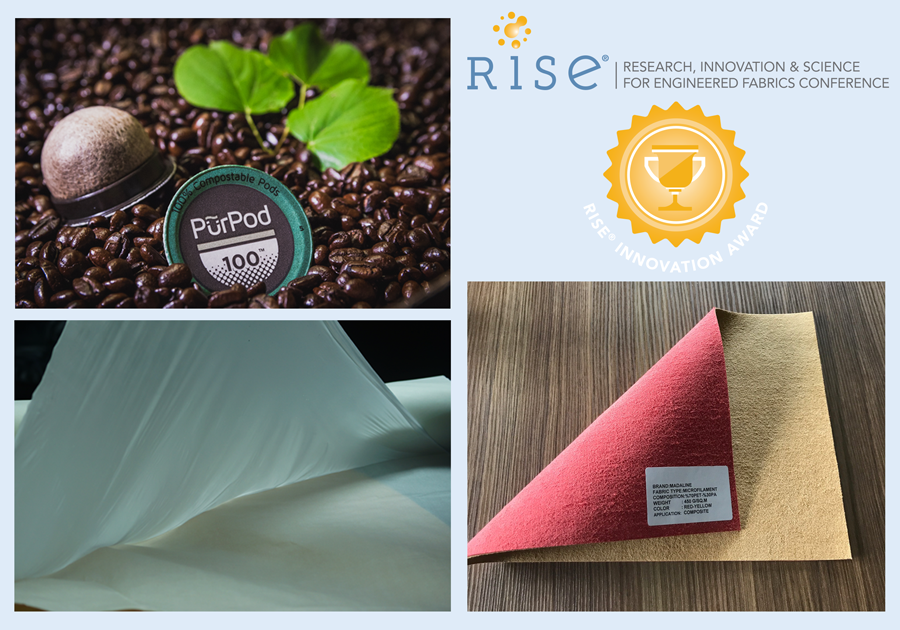 Research, Innovation & Science for Engineered Fabrics Conference Recognizes Creative & Unique Solutions
Cary, NC – August 3, 2017 – Three finalists will present innovative solutions for the prestigious RISE™ Innovation Award during the seventh edition of Research, Innovation & Science for Engineered Fabrics Conference (RISE®) Sept. 12-14, 2017 at the Sheraton Raleigh Hotel, in Raleigh, NC.  The award recognizes innovation within and on the periphery of the nonwovens industry that uses advanced science and engineering principles to creatively solve challenges within the nonwovens and engineered fabrics industry.
Meet the Finalists for the 2017 RISE® Innovation Award:
Club Coffee's PurPod100™ Compostable Pods
PurPod100™ is the first certified 100% compostable pod for the Keurig® single serve coffee format. Proven to break down in large-scale composting, the pod's mesh filter is a polylactic acid-based product. It is the first successful thermoformable PLA nonwoven filter application and its filtering delivers consumer satisfaction for many coffee brands.
Mogul's Madaline®
Madaline® microfilament fabrics fill the gap in nonwoven technologies for textile applications with advanced attributes for use in finishing, dyeing, printing, cutting and stitching.  The long-lasting microfilament fabrics help reduce environmental impact and is manufactured without binders, solvents or PVC. The fabric properties include thermal insulation, wind resistance, absorbency, quick-drying, breathability and UV protection with an inherent barrier against bacteria and dust mites.
Revolution Fibres' Xantu.Layr®
Revolution Fibres have developed Xantu.Layr®, the first commercially available nanofiber interleaving veil used in carbon fiber reinforced composite materials. Produced using a proprietary production method, it is a nonwoven web consisting of kilometer long thermoplastic nanofibers. Xantu.Layr® has been shown to improve the fracture toughness, strength after compression and fatigue resistance of composite laminates.
Technical executives in the nonwoven/engineered fabrics industry who are charged with finding new technical ideas to help grow their businesses will vote for the recipient of the 2017 RISE® Innovation Award, following afternoon presentations by each of the finalists on Wed. Sept. 13. The winner will be named on Sept. 14.
The finalists were selected by technical industry experts and members of the Association of the Nonwoven Fabrics Industry, Technical Advisory Board. In 2016, the RISE® Durable Product Award was presented to Suominen for Fibrella™ Lite, a nonwoven product for absorbent hygiene products.
The RISE conference program will cover these relevant industry topics: opportunities and challenges, manufacturing technologies, moisture management, 3D nonwoven structures, inventing the future, advanced materials: performance, wetlaid nonwovens, technology and money hurdles, advanced biomaterials, advanced machinery, and industry updates.
"The RISE® Conference embraces INDA's mission to stimulate, and recognize innovation.  Without doubt there will be occasions in the program when like-minded, forward-thinking technology professionals have a collective "Ahaa" moment as the potential impact of a new approach to a material science challenge is revealed. For Technology Scouts and New Product Innovators this will truly be an event not to be missed," says Dave Rousse, INDA's President.
About INDA
INDA, the Association of the Nonwoven Fabrics Industry, serves hundreds of member companies in the nonwovens/engineered fabrics industry in global commerce. Since 1968, INDA events have helped members connect, learn, innovate, and develop their businesses. INDA educational courses, market data, test methods, consultancy, and issue advocacy help members succeed by providing them the information they need to better plan and execute their business strategies. For more information, visit inda.org or call 919-459-3700.
###