Three Finalists to Compete for Prestigious RISE® Durable Product Award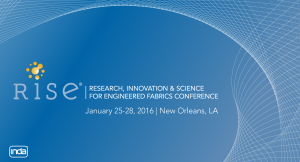 Most Innovative Durable Nonwoven to be Awarded at INDA's RISE® Conference Jan. 25-28 in New Orleans
Cary, NC – Dec. 10, 2015 – Three finalists have been nominated for the prestigious Research, Innovation & Science for Engineered Fabrics Conference (RISE) Durable Product Award that recognizes innovation in new commercial nonwoven durable products.
The fifth annual award will be presented at INDA's RISE Conference Jan. 25-28 at the Le Méridien Hotel in New Orleans, Louisiana. Last year, the coveted honor went to the Fitesa 100 Percent Biobased Spunbond material.
Technical and marketing executives in the nonwoven/engineered fabrics industry who are charged with finding new applications, new technology, and new ideas to help grow their businesses will vote for the recipient of the 2016 RISE Durable Product Award, following presentations by each of the finalists at the conference. The winner will be named on Jan. 28.
The RISE conference program will cover industry opportunities and challenges, machinery advancements, energy economics and olefin trends, innovative hygiene technologies, and advanced materials.
The finalists include nonwoven machinery, manufacturing technology, and a new material. The products offer customers such benefits as improving efficiencies and performance, and opening new markets and end uses.
Competing for the 2016 award are:
Groz-Beckert: Gebecon Needle
The new Gebecon machine needle offers the advantages of a standard conical needle when it comes to reducing needle breakage with the advantages of a standard working blade. The stability of the Gebecon needle provides a high surface quality with excellent results in needling efficiency. The company reports this new needle has been an instant market success with all customers who ran trials in the U.S. placing orders for additional needles. This needle could be used in a number of different market areas.
Fibrella Lite is an example of the innovative application of technology allowing the matching of traditionally incompatible nonwoven features like softness, strength and lightweight together in one material, according to the company. Fibrella Lite nonwovens meet the exacting requirements for a light yet stretchable material with strength and elongation properties required in laminates for absorbent hygiene products in baby care and adult incontinence applications.
Coming soon to the market, the Ultra Strand Coating System (SCS) can provide customers with the highest line efficiencies. The new technology features a patent pending design and the most accurate and highest efficiency adhesive coating on strands, the company said. It is designed to provide users with the best product performance and fewer product issues.  Recent tests showed Ultra-SCS performance surpassed expectations for creep performance.
RISE has connected technical innovation in engineered fabrics with practical applications since 2010. It is a conference growing in appeal to Business/Product Development Professionals, Innovation Teams, Product Managers, Research Engineers, and other Technical Scouts.
For more information or to register for RISE 2016 visit: inda.org/events/rise16
About INDA
INDA, the Association of the Nonwoven Fabrics Industry, serves hundreds of member companies in the nonwovens/engineered fabrics industry in global commerce. Since 1968, INDA events have helped members connect, learn, innovate, and develop their businesses. INDA educational courses, market data, test methods, consultancy, and issue advocacy help members succeed by providing them the information they need to better plan and execute their business strategies. For more information, visit www.inda.org, or download the INDA mobile app for immediate updates.
###