Tornado Victims in Midwest Continue to Need Our Support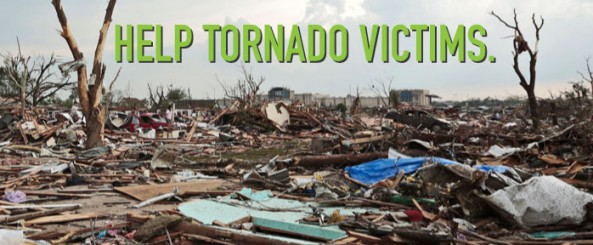 Help the tornado victims in the Midwest by donating.
As Tornado Alley was hit once again by devastating weather, the need for assistance in Oklahoma has grown exponentially. Good360 continues to seek out and deliver the unmet product needs of our nonprofits active in disaster relief.
Our nonprofit partners on the ground in Oklahoma have assessed the following immediate needs:
Flashlights
Rakes/shovels
Leather gloves
Trash bags
Totes
Duct tape
Tarps
Rope/twine
If your company is interested in donating any of the immediate needs above or other products that could aid in long-term recovery, please email recovery@good360.org.
Other ways your company can help:
Donate Cash
During emergency disaster relief, typically the most immediate need is cash. Consistently ranked by Forbes as one of the top ten most efficient charities in America, Good360 can deliver, on average, $70 worth of critically needed goods for every dollar donated.
Donate Products & Transportation
After the damage is assessed, the recovery process uncovers many unmet needs from building and cleaning supplies, to apparel and personal care products. We're looking for donations that can help families rebuild and regain a semblance of normalcy. Corporations looking to donate products for Midwest Tornado recovery, please contact recovery@good360.org.
Join our Disaster Coalition
The road to recovery is long and needs are always changing. Submit your email address to join our Disaster Coalition and receive updates on the product needs of those organizations recovering in the Midwest and future disasters. Please email recovery@good360.org and include your company name and preferred contact information. We are collaborating with the partners on the ground to discuss the current situation and will update the list-serv as we learn more.
Good360 is striving to make product philanthropy a part of relief and recovery. We and those whose lives have been forever impacted by disaster greatly appreciate your ongoing support.
Best regards,
Doyle Delph
Vice President, Donor Relations