WOW 2016 Program Announced, Website Launches and Registration Opens for World of Wipes® International Conference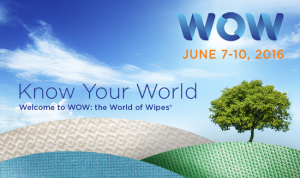 Cary, NC – Feb. 10, 2016 – Online registration and full program details for INDA's 10th edition of the World of Wipes® (WOW) International Conference 2016 is now available at the newly launched event website.
Interest is building for WOW – the only event of its kind devoted exclusively to the entire wipes value chain – June 7-10 at the Sheraton Grand Chicago. Prior to the conference, a separate immersive training program, INDA's WIPES Academy, will take place June 6-7 at the Renaissance Chicago North Shore Hotel in Northbrook, Illinois.
With the keynote address from Walmart and other sessions focused on crisis preparedness and real-world lessons learned from a "Shark Tank®" entrepreneur, WOW is focused on the latest issues and topics in the wipes marketplace.
Among the other areas that will be covered by expert speakers are new markets, products and technologies, formulations, flushability, industrial wipes, regulations, and packaging.
Information on speakers, networking opportunities, attendees, tabletop exhibitors, hotel reservations, and more can be found on the website. The speaker lineup for WOW 2016 includes:
Walmart's U.S. Manufacturing Initiative – Joe Quinn, Senior Director, Public Affairs and Government Relations, Walmart Stores, will speak about how the world's largest retailer is supporting U.S. manufacturing by working with companies to manufacture on-shore, boost sales of U.S. made products, and source locally for materials and products.
The Essence of Crisis Preparedness – What You Need to Know – Doug Petkus, Senior Vice President Corporate Practice, Ketchum, a world-renowned crisis management expert, will bring attendees best practice approaches to handling issues before they become a crisis, with a review of the basics for mitigating negative reputational impact.
Dude Wipe Update: Shark Tank® Story – 2013 innovation award winner Sean Riley shares how his flushable Dude Wipes landed a deal with investor Mark Cuban on ABC's Shark Tank® in 2015, leading to a national retail product roll out.
Flushability: Progress through Collaboration but Issues Remain – INDA President Dave Rousse will provide an update and perspectives on the multiple challenges in the flushable wipes sector, including lawsuits, legislative and regulatory activity, and global standards development.
Navigating the Regulatory Minefield – A panel of experts moderated by Jeff Slosman of the National Wiper Alliance will help make sense of conflicting and overlapping directives from the EPA and the FDA on such explosive topics as measurements of efficacy, and capture and kill claims.
Networking and World of Wipes Innovation Award®
WOW 2016 opens with a welcome reception on June 7 at The Ivy Room, a historic venue in the heart of downtown Chicago. Other networking opportunities for professionals include a Speed Networking Luncheon, featuring fast-rotating meetings with customers, colleagues, and peers; and Dining with Industry Thought Leaders, where attendees select a top wipes industry influencer to converse at small dinners.
Also at the conference, the annual World of Wipes Innovation Award® will recognize innovations in the wipes value chain that advances the use of nonwovens. Conference attendees will vote on the winner from finalists selected by INDA's Technical Advisory Board. Tabletop displays will be on exhibit on June 8-9, from 5 to 7 p.m.
For details, visit http://www.inda.org/events/wow16, email tleatham@inda.org, or call INDA at (919) 459-3726.
 About INDA
INDA, the Association of the Nonwoven Fabrics Industry, serves hundreds of member companies in the nonwovens/engineered fabrics industry in global commerce. Since 1968, INDA events have helped members connect, learn, innovate, and develop their businesses. INDA educational courses, market data, test methods, consultancy, and issue advocacy help members succeed by providing them the information they need to better plan and execute their business strategies. For more information, visit www.inda.org, or download the INDA mobile app for immediate updates.
###