Flushable Wipes Class Action Lawsuit Dropped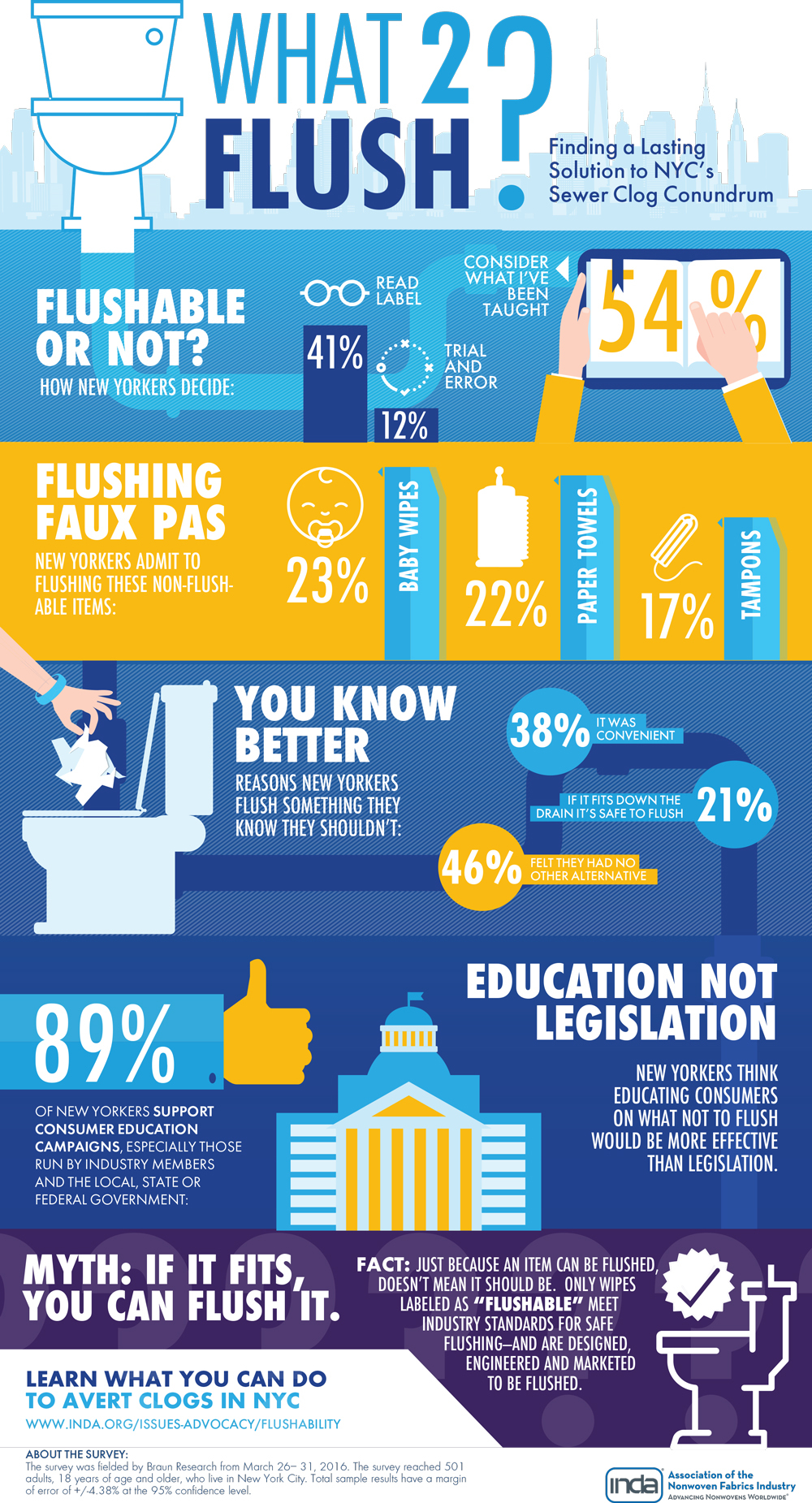 The City of Perry, Iowa Settled Lawsuit Claiming Damages from Flushable Wipes
CARY, North Carolina, August 10, 2017 – INDA, the Association of Nonwoven Fabrics Industry, today announced the settlement of the class action lawsuit brought by the City of Perry, Iowa, in which Perry alleged damages from flushable wipes manufactured by a number of flushable wipes producers. In dropping its lawsuit, Perry admitted that since the inception of its lawsuit, filed in 2015, it had not experienced any clogs or increased maintenance costs attributable to flushable wipes. Perry also admitted that none of its personnel were able to identify any flushable wipes manufactured by select companies in the city's plumbing or wastewater systems.  Notably, Perry agreed to drop its lawsuit without receiving any compensation for any alleged damages.
In 2016, two of the defendants in the Perry case were able to resolve another flushable wipes class action lawsuit in Florida (Sweeney v. Kimberly-Clark, et al.), where the consumer Plaintiffs also agreed to drop the class action lawsuit without any compensation for alleged damages.
"The settlement terms of the Perry litigation corroborate what years of testing and field collection studies have shown: that flushable wipes are not causing municipal clogs or increased maintenance," said Dave Rousse, president of INDA. "To date, despite sensational headlines, there is no evidence from any wastewater agency proving that flushable wipes are causing clogs or maintenance issues."
Recent studies point to similar findings. A recent independently conducted collection study in New York City found that more than 98% of the items examined were not labeled or designed to be flushed, including baby wipes, surface cleaning wipes, paper towels, as well as additional trash items. Other collection studies conducted in Maine and California have yielded similar results.
INDA recognizes that wastewater agencies are facing real challenges associated with clogs due to diverse causes, such as aging infrastructure, kitchen grease and flushing of items not designed to be flushed.  Flushable wipes are part of the solution to those challenges because they are designed to break down in properly maintained sewer and septic systems.  Banning these innovative products designed to be flushed will only worsen the problems faced by municipalities because consumers will likely turn to non-flushable products– like baby wipes – to address their toileting needs.
INDA and its partner organization, The Responsible Flushing Alliance (RFA), along with the flushable wipes industry, remain committed to educating consumers about proper disposal of non-flushable products through improved labeling and cooperation with wastewater operators to establish effective consumer-facing campaigns on the consequences of flushing non-flushable products.
About INDA
INDA, the Association of the Nonwoven Fabrics Industry, serves hundreds of member companies in the nonwovens/engineered fabrics industry in global commerce. Since 1968, INDA networking events have helped members connect, innovate, and develop their businesses. INDA educational courses, market data, test methods, consultancy, and issue advocacy help members succeed by providing them the information they need to better plan and execute their business strategies. For more information, visit www.inda.org, or download the INDA app for immediate updates.
For further information, please contact: Media.Relations@INDA.org