INDA Adds Additional Webinar Date to Explain New ASTM Standard on Facemasks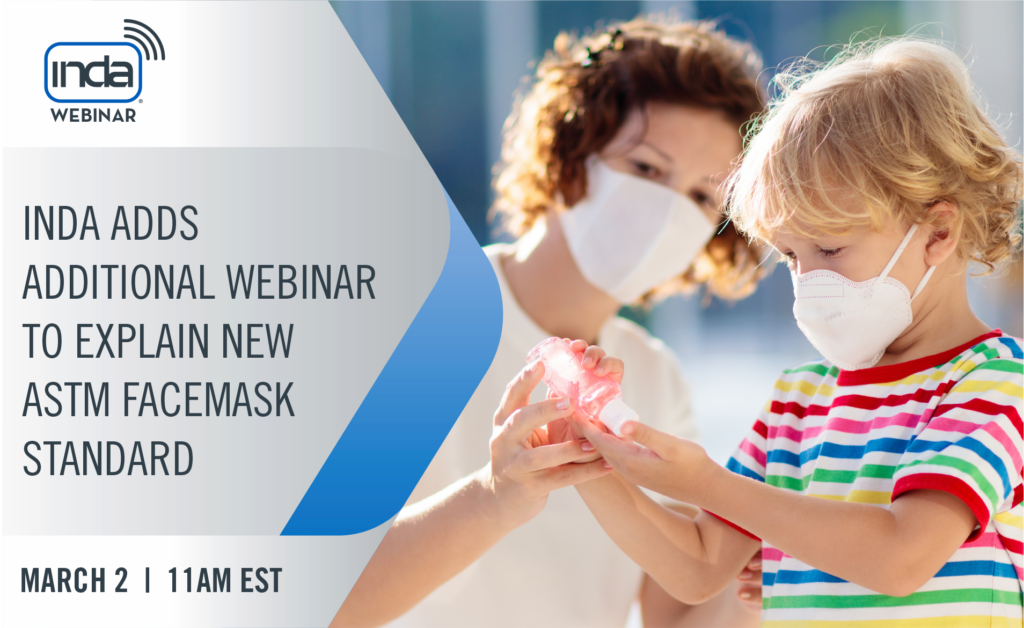 Cary, NC, Feb. 16, 2021 – INDA, the Association of the Nonwoven Fabrics Industry, announced an additional webinar date of Tuesday, March 2, 11 am EST to discuss the new ASTM F3502-21 Standard Specification for Barrier Face Coverings launched by ASTM on February 15. This standard establishes for the first time a set of test methods that evaluate the filter, fit and leakage performance of barrier face coverings, commonly referred to as "facemasks" worn by the general public, and not to be confused with respirators nor medical or surgical masks. The webinar will be presented by respiratory expert, Jeff Stull, Vice Chair of the ASTM Committee that wrote the standard, and Dave Rousse, INDA President. It will provide a detailed review of the new ASTM standard and the test methods it entails and the impact on the entire supply chain of facemask production. Details and registration are available here: www.inda.org/inda-webinars
The purpose of guidance for the general public to wear facemasks is to control the spread of viruses. Facemasks made to this new ASTM standard will also provide a degree of particulate filtration to reduce the amount of inhaled particulate matter.
The goal of the standard is to assist consumers in making informed decisions about facemasks given the vast array of products currently for sale, including various patterns promoted for home-made manufacture using common textile materials. Prior to the ASTM standard, no standard test method existed which allowed comparisons among different products nor were there any minimum performance requirements. This new standard provides these performance requirements as well as a set of specifications, guidelines and expectations for facemask manufacturers and media suppliers.
"We approached NIOSH last year on developing a general public facemask standard that could use nonwoven materials beyond Meltblown that still deliver an effective level of filtration, as there was so much demand for the N95 respirators and masks once the Asian supply chain was cut off," said Dave Rousse, INDA President. "We were delighted to get a positive response from Jon Szalajda, NIOSH Deputy Director, National Personal Protective Technology Laboratory, who is also the Chair of the ASTM Committee dealing with standards in this area."
"This was a worthwhile project that we worked through the ASTM process in record time," said Szalajda. "It should provide an important benefit in the fight against COVID-19 spread by reducing consumer confusion about what works and what does not and assisting manufacturers in making effective products."
"The development of this standard has been followed by the Occupational Safety & Health Administration (OSHA)," said Rousse, "as it considers the January 21 Presidential Executive Order on whether any emergency temporary standards with respect to masks in the workplace are necessary to reduce the risk of COVID-19 spread, and if so, to issue them
by March 15.  This would have a significant and rapid impact on the facemask industry.  In our March 2 webinar, we will review all of these developments and provide needed information and guidance to the suppliers, converters and marketers in this important sector."
This webinar on March 2 will be in addition to the INDA Webinar Series already scheduled for March 16, March 25 and April 6. For information on the full webinar series, visit www.inda.org/inda-webinars.
About INDA
INDA, the Association of the Nonwoven Fabrics Industry, serves hundreds of member companies in the nonwovens/engineered fabrics industry doing business globally. Since 1968, INDA events have helped members connect, learn, innovate, and develop their businesses. INDA educational courses, market data, test methods, consultancy, and issue advocacy help members succeed by providing them the information they need to better plan and execute their business strategies. INDA Media is the business-to-business publishing arm of INDA and publisher of International Fiber Journal and International Filtration News, which reach a vast network of professionals who employ fibers, filaments, and filtration systems to optimize their application environments. For more information, visit www.inda.org, or download the INDA mobile app for immediate updates.