INDA Webinars
Archived: INDA and Euromonitor International Present a 3-Part Webinar Series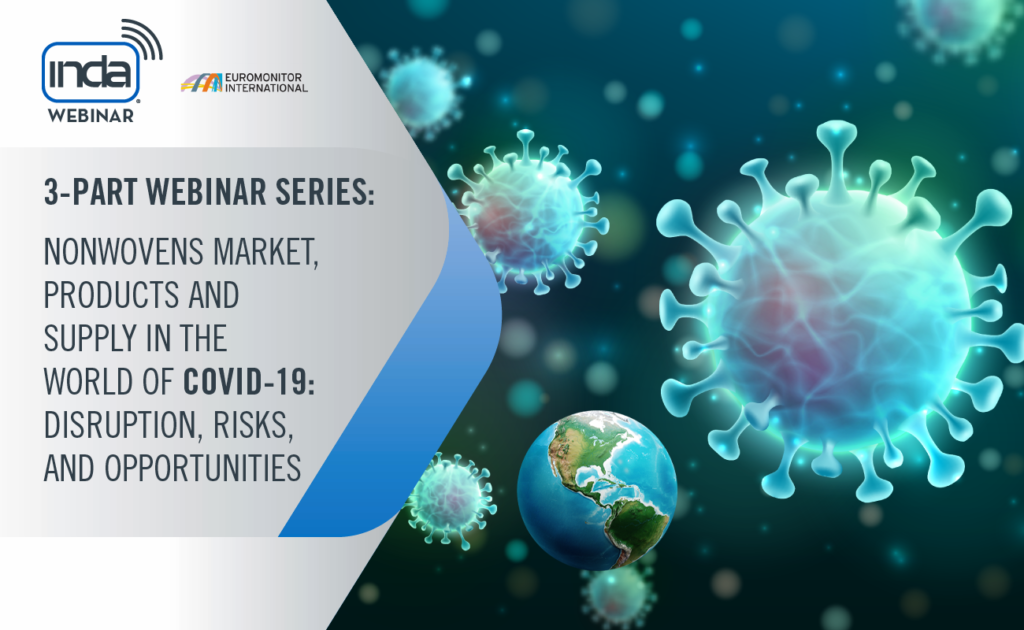 Nonwovens Professionals in the Nonwovens and Related Industries:
Increase your knowledge of nonwovens masks, wipes, and market performance during the COVID-19 pandemic!
Nonwovens Market, Products and Supply in the World of COVID-19: Disruption, Risks, and Opportunities.
Get the latest information you need on nonwovens markets, metrics and products to navigate the COVID-19 crisis.
Hear Euromonitor International's latest estimates on the seismic shifts in markets/products and supply and demand caused by the COVID-19 pandemic.
Meet on-line with Brad Kalil to preview his 2019 supply/demand analysis.
Order one, two, or all three of these 50-minute Webinars in this critically needed 3-part series.
---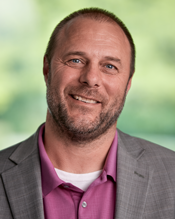 Archived: Structure, Effectiveness and Differentiation of COVID-19 Wipes & Masks
Chris Plotz, Director of Education & Technical Affairs, INDA
Discover the essential physical and chemical characteristics of disinfecting nonwoven hand wipes, hard surface wipes, and critical facemasks to fight COVID-19 for work, home, and personal care applications. The focus will be:
Face mask: Differentiation and filtration efficacies
Wipes: Dry and wet
Chemistries: Types and effectiveness for hand, skin, and hard surface sanitizers
Nonwovens best protection practices and new developments
Lead instructor: Chris Plotz is a business leader with 19 years of technical nonwovens related experience in global product management and product development. At INDA, Plotz directs, oversees, and expands education and training programs for all levels of industry members, manages the international harmonized standards activities, Product Stewardship activities, Technical Advisory Board, and key services areas that INDA operates for its members.
Previously, Plotz was the director of innovation with The Green Edge, management consultants, where he led product life cycle activities for sanitizing technologies. Plotz brings experience in global product management and product development within leading manufacturers including Parker Hannifin, ITW Pro Brands and BHA Technologies, Inc. He holds a Master of Textiles degree from North Carolina State University, a Master in Business Administration from Rockhurst University in Missouri, and a Bachelor of Industrial Engineering degree from the University of Wisconsin-Stout. He is the author of five wet wipe patents and co-author of several patents pending.
---
Fees: Each webinar is $95 for INDA Members and $125 for Non-members.

---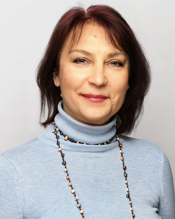 Archived: Absorbent Hygiene Marketplace During COVID-19: Disruption, Risks, & Opportunities
Svetlana Uduslivaia, Head of Research, Euromonitor International
With the global dynamic market already challenged for key brands and businesses, the COVID-19 pandemic has added extra layers of complexity. While stockpiling has provided a temporary boost to a number of products, there are certain challenges ahead through 2020 and 2021 to consider. This webinar will feature:
The 2020 and 2021 impact of COVID-19, using Euromonitor International updated forecast models and tactical data on select categories for short-term trends and potential long-term implications
Understand company risk exposures through the use of elasticities during COVID-19
Key market disruptors, and key learnings for innovation and consumer communication
Learn which nonwoven supply/demand developments match consumer critical needs from Euromonitor's industry, production and modeling experts.
This webinar will contrast select markets to reveal differences in consumer product feature preferences for select absorbent hygiene categories. Data is based on Euromonitor International's latest health consumer surveys released in 2020. It includes consumer thoughts on future spending habits sourced from Euromonitor International 2020 consumer lifestyle survey.
Lead instructor: Based in Euromonitor's Chicago office, Svetlana Uduslivaia manages the work of research analysts working in broader Home & Technology groups in Chicago and provides research, client and editorial support for the group's activities in the Americas. Additionally, Uduslivaia provides expertise, analysis, and client support specifically for tissue and disposable hygiene industry globally.
A respected speaker at key international events, Ms. Uduslivaia works with the key global industry publication. Ms. Uduslivaia has 20 years' experience working with Euromonitor, and is an expert within the Fast-Moving Consumer Goods (FMCG) industries in Canada. She has a Master degree in Sociology from Lancaster University, UK, and Central European University (Hungary) and a Bachelor Degree in History from Moldova State University.
---
Fees: Each webinar is $95 for INDA Members and $125 for Non-members.

---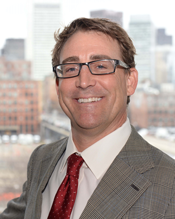 Archived: Increasing Nonwovens Materials to Respond to COVID-19 Crisis
Brad Kalil, Director of Market Intelligence and Economic Insights, INDA
Discover the market changes in demand and supply to meet the needs for protective medical apparel and face mask materials. Gain critical insights from the seventh edition of INDA's annual North American Nonwoven Supply Report.
This webinar will feature:
Actionable, accurate, and relevant industry intelligence based on primary research, surveys and interviews with industry participants throughout the supply chain
How nonwovens companies are increasing the availability of meltblown and critical materials
How to build your production strategy during the COVID-19 crisis with the latest shifts in capacity, production, and operating rates in the nonwoven material industry
How and where companies are launching new facemask production start-ups
Which manufacturers are investing in equipment additions, closures, and plant improvements
How you can identify converting and manufacturing business opportunities with late breaking business intelligence
Lead instructor: Brad Kalil, Director of Market Intelligence and Economic Insights, INDA, joined INDA in April of 2013. He is responsible for providing industry thought leadership through the gathering, analysis and dissemination of market information and industry reports for INDA. He is the author or co-author of INDA's biennial Industry Outlook reports on North America and the Global Nonwovens Industry, in addition to authoring the annual North American Nonwovens Supply Report and quarterly Market Pulse. He has a long history in research and market analysis advising the world's best-known consumer packaged goods companies. He has had a number of market research and market analysis roles through the last 27 years. His career also includes work with RISI and he spent seven years with Weyerhaeuser in the corporate Market and Economics Research group and as the Business Intelligence Manager for the Cellulose Fibers Business.
---
Fees: Each webinar is $95 for INDA Members and $125 for Non-members.

---
ORDER TODAY to get up-to-the minute information on the important issues.
Identify your key business metrics to maintain, support, and meet demands during COVID-19.
Get what you need to know to bridge opportunities with business partners in the nonwovens industry.