INDA's Virtual Hygienix™ 2020 Event Connects Global Hygiene and Personal Care Industry Professionals!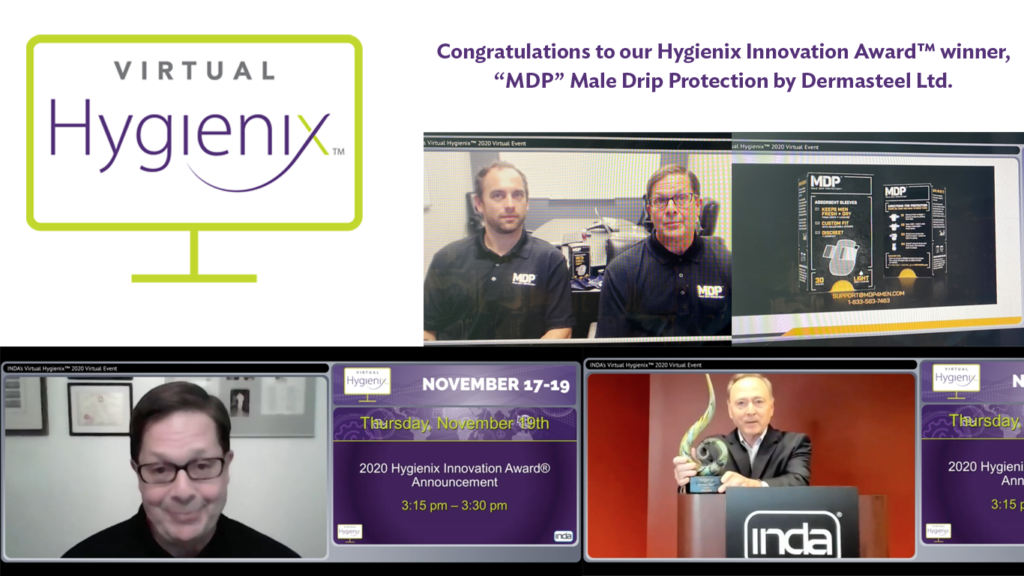 Male Drip Protection from Dermasteel Ltd. Earns Prestigious Hygienix Innovation Award™
Cary, NC, Nov. 19, 2020 – Over 240 professionals from 18 countries throughout the supply chain participated in the sixth edition of INDA's Hygienix™, the premier event for absorbent hygiene & personal care markets, on Nov. 17-19 in a virtual format to comply with pandemic guidelines.
The successful three-day Virtual Hygienix™ drew high praise from registrants for the premium content, engaging networking opportunities, and insightful market trends and forecasts.
"Virtual Hygienix™ presented good topics, quality speakers and a means to network…it's the next best thing," said Tom Kaiser, Sr. Research Engineer, Domtar Personal Care.
"I appreciate the strong participation to spark dialogue and debate in the Virtual Hygienix platform," said Wendy Warner, President, Personal Care, Jacob Holm Industries (America), Inc.
"For us the Virtual Hygienix™ is a great success! We've made several business connections and had excellent discussions. It's A1," said Rocky Lane, Managing Partner, Sanford Holshouser Economic Development Consulting, LLC.
"This has been a fabulous conference with great conversations," said Claire Crunk, President, Southeast Hemp Fiber.
Session topics included: The Absorbent Hygiene Industry under COVID-19; U.S. Economic Forecast and Industry Statistics; Packaging and Labeling Challenges; Innovative Developments and Intellectual Property; Smart Diapers; and Principles of Sustainability and Elderly Care. Virtual Hygienix™ included presentations from 24 industry experts along with 6+ hours of virtual live personal engagement.
Presentation highlights included:
Colin Hanna, Director of Research, and Pricie Hanna, Managing Partner, Price Hanna Consultants – presented challenges, resiliency, and recalibration of sourcing and risk management strategies at multi-levels in the absorbent hygiene product supply chain.
Lindsey Piegza, Ph.D., Chief Economist, Stifel Financial Corporation, presented an outlook on the U.S. economy from a pre- and post-election perspective, including comments on a potential stimulus package and the impact of recent vaccine developments on the economic outlook.

Bryan Haynes, Ph.D., Senior Technical Director – Global Nonwovens, Kimberly-Clark Corporation presented on the future of sustainable plastic alternatives and the impact of the European Union Single Use Plastics Directive on some of these alternatives, as well as Kimberly-Clark Corporation's sustainability 2030 strategies.
Participants developed business relationships during networking opportunities that included: engaging conversations on selected topics, live Q&A sessions with each presenter, and open conversations during coffee talks, afternoon tea, and cocktail hour sessions.
One highlight of the event included the announcement of INDA's prestigious Hygienix Innovation Award™ to Male Drip Protection from Dermasteel Ltd. – an innovative male leak protection product, with a patent-pending, proprietary design that is discreet, form-fitting, and tailored to the male anatomy. This new product provides effective containment of bodily fluids, protecting the wearer's skin while affording him comfort and confidence.
Other nominees for the Award included a new class of adhesives, Full-Care® 6217, from H.B. Fuller and High Gel Strength (HGS) SAF™ from Technical Absorbents Limited.
The next Hygienix™ is scheduled for November 15-18, at the Westin Kierland hotel in Scottsdale, Arizona. "We look forward to gathering our industry professionals together for Hygienix™ and returning to a face-to-face format in 2021," said Dave Rousse, INDA President.
About INDA
INDA, the Association of the Nonwoven Fabrics Industry, serves hundreds of member companies in the nonwovens/engineered fabrics industry doing business globally. Since 1968, INDA events have helped members connect, learn, innovate, and develop their businesses. INDA educational courses, market data, test methods, consultancy, and issue advocacy help members succeed by providing them the information they need to better plan and execute their business strategies. INDA Media is the business-to-business publishing arm of INDA and publisher of International Fiber Journal and International Filtration News, which reach a vast network of professionals who employ fibers, filaments, and filtration systems to optimize their application environments.
For more information, visit www.inda.org, or download the INDA mobile app for immediate updates.
###