Ralph Moody, P.E.
Lifetime Technical Achievement Award
2018
Berry Global, Inc.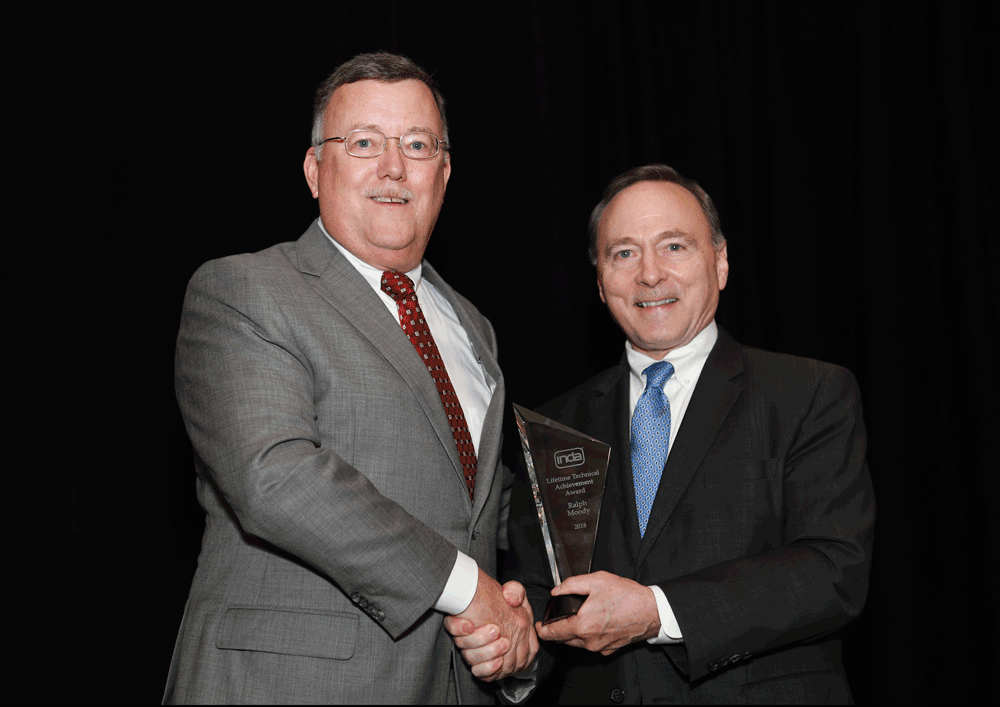 Mr. Moody holds a Bachelor of Science in Mechanical Engineering from NC State University, and a Professional Engineering license in NC. He holds 11 Patents in the nonwovens field, and has been involved in the design and startup of 10 nonwoven production lines (6 in the USA, 2 in Europe, 2 in China).
Mr. Moody was hired by Chicopee (Div of Johnson & Johnson) in 1980 and assisted with the startup of up of the first spunlace line for Johnson & Johnson. He was involved with carded, film, and spunlace development for 15 years before transitioning into R&D at PGI Nonwovens when PGI purchased Chicopee in 1995.
Mr. Moody was involved with R&D Global Development from 1995-1998 before becoming a member of the Global Sales team as Lead Technical Advisor and Development contact for customers. He was promoted to Director of NA Process Engineering in 1998. Mr. Moody has been the Sr. Director of R&D at Berry Global, Inc. since 2008.
Mr. Moody's expertise in process development and R&D were essential in several commercially successful substrates and their production processes. His key major product contributions, not to mention many other products and processes commercialized over the years, include:
Installation & Commercialization of the first MEF (Modified Entangled Fiber) spunlace line for Chicopee Food Service wipes
Commercialization of APEX® technology for NuGauze® – J&J's first Nonwoven "gauzelike" sponge
Miratec® Durable APEX® nonwoven material for textile replacement applications
Swiffer®, joint development with P&G and PGI to produce an imaged scrim reinforced dry dusting nonwoven substrate
Kirkland® brand APEX® imaged scrim reinforced Cotton enriched baby wipe
Spinlace®, Berry's spunmelt based wipes substrate
Arium™, Berry's submicron fiber technology
Nuvibond® Berry's Ribbon shaped spunmelt fiber substrate for barrier
Mr. Moody has been an active INDA Member for 25+ years during his tenure at Johnson & Johnson, PGI Nonwovens, and Berry Global, Inc. He has also been an active member in The Nonwovens Institute (NWI) at NCSU for over 20 years, is the current Scientific Advisory Board chair at NWI, and participates as an Industrial Technical advisor to Graduate students.
PATENTS:
| | | | | |
| --- | --- | --- | --- | --- |
| | Document | Title | Assignee | Issue date |
| 1 | US-5558218-A | Shipping container for large cylindrical sleeves | McNeil-PPC, Inc. | 9/24/1996 |
| 2 | US-6381817-B1 | Composite nonwoven fabric | Polymer Group, Inc. | 5/7/2002 |
| 3 | US-6516502-B1 | Composite nonwoven fabric | Polymer Group, Inc. | 2/11/2003 |
| 4 | US6692541B2 | Method of making nonwoven fabric comprising splittable fibers | Polymer Group, Inc. | 2/17/2004 |
| 5 | US-6735833-B2 | Nonwoven fabrics having a durable three-dimensional image | Polymer Group, Inc. | 5/18/2004 |
| 6 | US-7013541-B2 | Nonwoven fabrics having compound three-dimensional images | Polymer Group, Inc. | 3/21/2006 |
| 7 | US-7047606-B2 | Two-sided nonwoven fabrics having a three-dimensional image | Polymer Group, Inc. | 5/23/2006 |
| 8 | EP-1684972-B1 | Three-dimensional nonwoven fabric with improved loft and resiliency | Polymer Group, Inc. | 8/17/2011 |
| 9 | US-8426671-B2 | Liquid management layer for personal care absorbent articles | Polymer Group, Inc. | 4/23/2013 |
| 10 | EP-2557214-B1 | Liquid barrier nonwoven fabrics with ribbon-shaped fibers | Polymer Group, Inc. | 3/12/2014 |
| 11 | CN-105228814-B | Multi-zone spinneret, apparatus and method for making filaments and nonwoven fabrics therefrom | Polymer Group, Inc. | 10/10/2017 |