Robert Averell
Lifetime Service Award
2017
Auriga Polymers, Inc.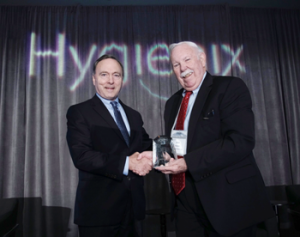 Bob Averell received his BA in Mathematics from the University of Pennsylvania and his MBA from Rutgers. His career spans 53 years in the polyester industry. Mr. Averell began his career in 1964 as a Development Engineer with Celanese Fibers in Charlotte.  He stayed until 1995 when he retired.
He started his second career with Wellman in 1995 and retired for the 2nd time in 2008. Mr. Averell started his third career with Invista in 2008.  He is now with Auriga Polymers, a division of Indorama Ventures, as a Senior Account Manager, and has announced his third and final retirement at the end of 2017.
Mr. Averell is a member of INDA's Technical Advisory Board (TAB) including several terms as TAB chair. He is also a member of the Standard Test Methods Committee, a member of the RISE Conference Committee, and a member of the Industrial Advisory Board at NC State University's Nonwovens Institute.