Thomas A. Justice
Lifetime Service Award
2014
Zene, LLC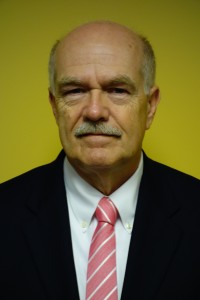 Management career with 30 years in the air filtration industry heading up the Operations side of two $200M+ companies with responsibility for over 3,000 employees, $42M in overhead expense spending, $7.5M in capital outlays and $125M in raw material purchases. During 25 year tenure with what is now Clarcor Air Filtration, worked with team which grew revenues from $12M to $240M. The team logged over 300 consecutive months of profitable operation and over a ten year span, turned in performance of 10% +  EBIT.
Bachelor of Science in Mechanical Engineering with experience in both the manufacturing and process side of the business along with direct responsibility for product development, quality assurance, safety and environmental. Cross functional experience in operational related areas, including manufacturing, distribution, production planning, purchasing, and human resources.
Active in ASHRAE and NAFA for over 25 years. Currently a member of ASHRAE SSPC 52.2 and TC 2.4. Co¬chair of Filtration 2012.Education chair for NAFA. Member of U.L. Standards Technical Panel for Air Filter Units (STP 900). Broad base of experience in the Commercial/Industrial, Wholesale and Retail sales channels for the HVAC air filtration market.
Directed start-up of seven manufacturing plants & one distribution center. • Relocated 4 manufacturing facilities and expanded 3 key operations. • Oversaw closure of 6 manufacturing/distribution facilities. Started up private label manufacturing of 3M filters. • Spearheaded several automation projects • Expanded ISO certification. • Managed proactive safety programs as cost reduction centers. • Established formal cost reduction programs at all locations which consistently turned in combined savings of $2M annually, excluding freight and raw material savings.
Professional Experience
Plant Engineering Manager 1981 to 1982  Clarcor (Facet Enterprises) Henderson, NC
Responsible for all Engineering functions at the Henderson, NC facility. Started up production of bag filters, pleats and auto-rolls. Developed SPC program for Modigliani fiberglass media operation. Directed start-up of warehouse management system. Director of Engineering 1982 to 1989 Clarcor (Facet Enterprises) Henderson,NC Responsible for product, process, plant, and process engineering for company. Assisted with the acquisition and consolidation of Servodyne Corporation which doubled size of company Introduced a number of new products/processes during this time including Monobond filter and HEPA manufacturing. Opened the Davenport facility, closed Chicago, and relocated Newark facility to Metuchen. Developed NESHAP paint overspray systems for Boeing which are still in use today. Plant Manager 1989 to 1990 Clarcor (Facet Servodyne) Henderson,NC Responsible for Henderson, Davenport, and Metuchen locations along with previous engineering responsibilities. Relocated high efficiency operations from Henderson to Kenly Closed fiberglass manufacturing operation. Expanded manufacturing at the Davenport facility.
VP Operations 1990 to 1999 Clarcor (Purolator) Henderson,NC
Responsible for four plants and one distribution center, along with Engineering, Product Development, and Human Resources. Reduced overhead at 2 Servodyne facilities by 18% and increased efficiencies by 37%. Relocated Santa Rosa plant to Sacramento. Implemented 5S program. Headed up team for several union contract negotiations. Cut service lead times by more than 50%. Automated assembly processes for pleats, bags, furnace filters, and metal forming operations. Reduced spending as a percentage of EDL by over 25%. Reduced recordable accidents by over 80%. Cut Cost of Sales as percent of net sales from 81% to 74.5%. Lowered inventory levels from 14.6% of net sales to 9.7%, while improving on-time shipments. VP Operations 2000 to 2005 Clarcor (CLC Air) Louisville,KY Given responsibility for additional 6 plants and one distribution center making up the Airguard group along with 3 plants from ATI corporation. Consolidated manufacturing engineering with the Purolator group. Implemented cost control measures at Airguard facilities, which improved EBIT from a negative 2% (of net sales) to a favorable 4% in six months. Directed the expansion of private label branding for 3M. This developed into a $40M business unit. Started up distribution facility in Louisville and 3M plant in Campbellsville. Expanded operations in Dallas, Kenly, Henderson, and Ottawa. Relocated Gastonia plant to Clover. Oversaw team which reduced raw material costs by over $3 million and inter-company transfer freight cost by $2.5M.
Owner 2006 to Present Zene Filtration Goldsboro, NC
Started up consulting business serving the air filtration industry. (During this period, worked directly for client for a period of 120 days). Started up 4 manufacturing plants including one facility in Mexico and a media card line operation in Clarkton. Filed for 6 patents, all product related. Supervised the development of automated nestable filter line producing approximately 11.5 fpm with one operator. Implemented safety and cost reduction programs. Assisted client with development and marketing of self-supported media concept.
Sr. Applications Engineer Johns Manville Corporation
Interfaced with customers and R&D to develop and apply new products and identify new applications for existing technology. As part of Engineered Products Group was involved in a number non-wovens including carded, wet lay, spun bond, melt blown, and blown glass fibers. This had been my largest customer at Zene.
Product Support Engineer 1975 to 1977 Goodyear Tire and Rubber Co. Danville,VA
Responsible for design, development and support for General Utility Aviation tires. Redesigned molds for a 5% reduction in material costs and faster heat transfer from the sidewall for the GUA line. Worked with team developing new compounds for higher traction and improved water channeling for inclement conditions.
Project Engineer 1978 to 1980 H.J. Heinz Corp. Henderson,NC
Sole project engineer for 3 plant Pickle Division. Responsible for project, plant and process engineering. Headed up facility expansion in Holland, MI Oversaw production expansion at Stockton facility.
Education B.S., Mechanical Engineering 1975 North Carolina State University Raleigh, NC