Thomas W. Federle
Lifetime Technical Achievement Award
2015
The Procter & Gamble Co.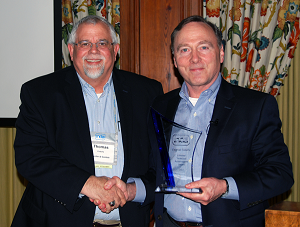 Thomas W. Federle, Ph.D., Research Fellow at Procter & Gamble, is the recipient of the 2015 INDA Lifetime Technical Achievement Award. His career involvement and commitment to bringing science-based approaches to issues in the nonwovens industry is a critical factor in earning him this award.
Federle led research to modify existing aerobic and anaerobic biodegradation tests to assess flushable substrates and pioneered the early use of the shake flask to evaluate dispersibility of flushable products. These tests became part of the WERF Protocols to Assess the Breakdown of Flushable Consumer Products published in 2003 and formed the basis for development of the Flushability Assessment Test Guidelines, Editions 1, 2, and 3, and now under development, Edition 4. This market category has become one of the faster growing wipes categories, and Federle's work has been instrumental in providing an effective means of measuring behavioral and disintegration properties for proper disposal of these products.
During his career, Federle has served on a variety of editorial boards, scientific review panels, and as an adjunct professor making significant advancements and contributions to the nonwovens industry. He is a Fellow of the American Academy of Microbiology and has authored over 65 scientific papers and holds 2 patents. In 2011, he was awarded the Samuel Rosen Memorial Award by the American Oil Chemist Society for his contributions to surfactant chemistry.
"It gives me great pleasure to recognize a man who has influenced product developments that affect so many lives over the years. Tom's dedication to the scientific method is an inspiration to us all in the nonwovens industry. His tireless efforts and involvement with nonwovens and Flushability issues has been invaluable. We are pleased to recognize Tom's contributions and services to our industry and the people it serves," said Dave Rousse, President of INDA.
Federle received his Ph.D. from the University of Cincinnati. He did research at Florida State University using analytical chemistry techniques to study the microbial ecology of marine sediments. In 1983, he joined the faculty at the University of Alabama at Birmingham where he initiated research in biodegradation and biotransformation of soils materials in the human intestines. In 1985, Tom joined the Environmental Science Department at Procter & Gamble where he has been since. Over the years, his work has focused on the fate of consumer product constituents in a variety of end-of-life habitats. His responsibilities include assessing the environmental fate, exposure, and safety of P&G materials.